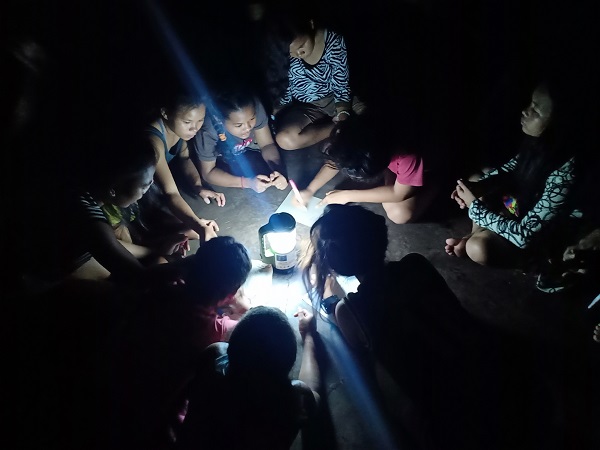 Writing—through poetry, essays, and stories—has become a medium for Lumad students to remember their communities: the mountains and rivers, their farms, the vast lands of their ancestral domains that they could have inherited and enriched had militarization stopped. As integral as sciences, mathematics, and agriculture in Lumad schools, creative writing has provided a space not only to explore their creativity and intuitiveness, but a fertile ground to harness their Indigenous knowledge systems and practices (IKSP) on the verge of deletion and revision by none other than the government.
Since the onset of Duterte's term, the Duterte regime has launched brazen attacks on the Lumad. (Lumad is the collective term for Indigenous peoples of Mindanao.) From the pronouncement of massive selling of ancestral lands to foreign investors to Duterte's order of bombing the Lumad schools that were alleged by the military to be training grounds for rebels, Lumad children and youth have had to weather the raging storm of the Duterte regime to continue their education.
More than 250 Lumad schools have been forcibly closed as of 2019. The Department of Education (DepEd) became instrumental in the closures by cancelling permits to operate even though schools such as the Salugpongan schools were recognized by the same department for their invaluable contribution to Indigenous peoples' education. Military and paramilitary forces also used sheer force to close the Lumad schools through encampment, arresting and detaining teachers and administration and padlocking and destroying facilities collectively built by the community. As if that were not enough, police raids have been carried out in Bakwit (evacuee) sanctuaries, for instance the recent police raid at the Talamban campus of the University of San Carlos, resulting in the arrest and detention of students and volunteer teachers and meddling from social workers. Another sanctuary, the University of the Philippines (UP) faces yet another threat after the Department of National Defense (DND) unilaterally cancelled the DND-UP Accord, a safeguarding mechanism that prevented the military and police from conducting non-coordinated operations inside the university.
Despite all of these looming threats, the Lumad children and youth remain optimistic and steadfast in their education. In the midst of the pandemic, Lumad students from the Lumad Bakwit School based in Manila and the students of the Community Technical College in Southeastern Mindanao (CTCSM) have been able to produce works that tackle their personal issues and their communities' issues in relations to the wider struggle of Indigenous peoples in defending their ancestral lands and their rights to self-determination.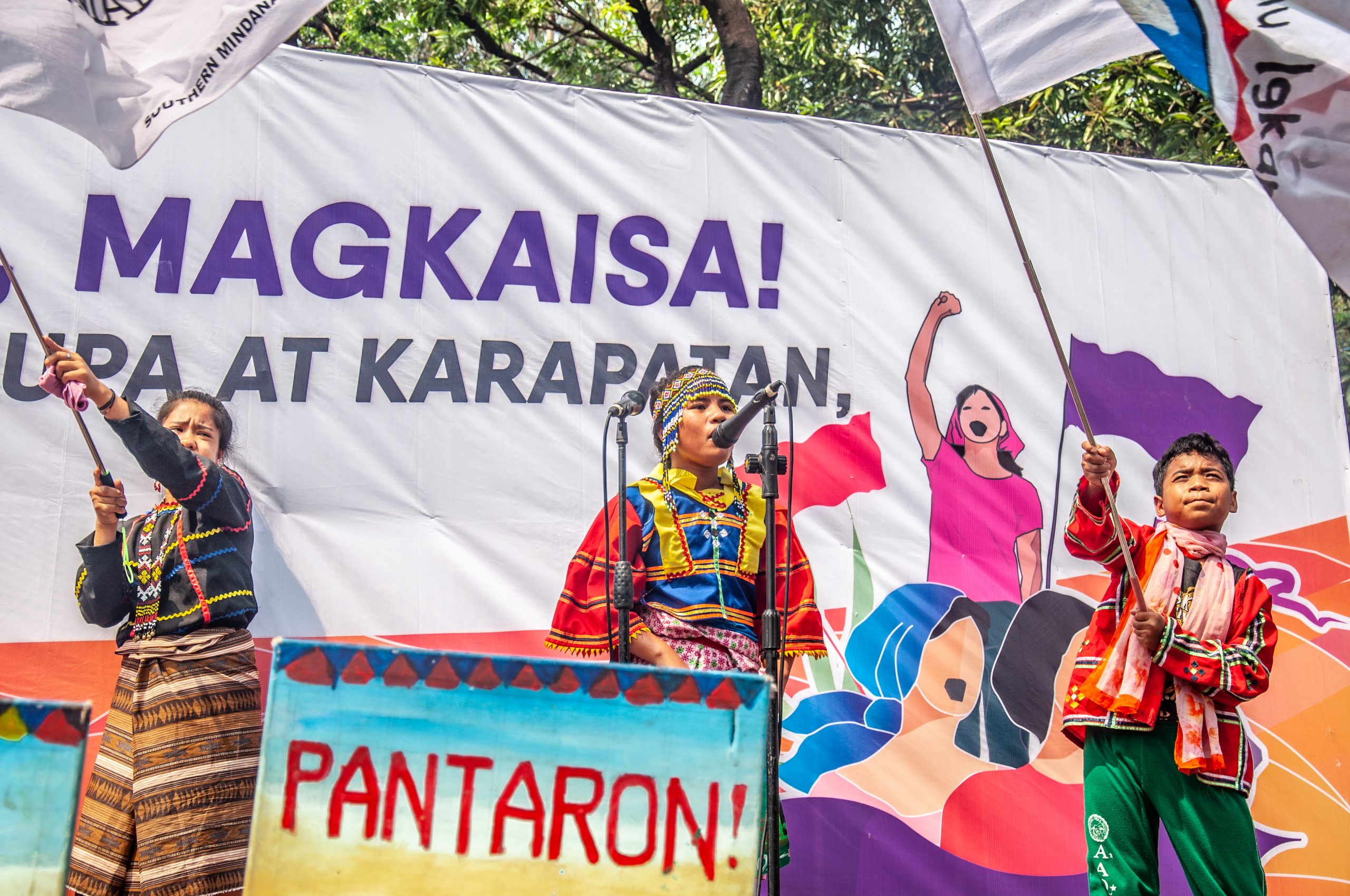 Written before and during the pandemic, the works were published in an anthology of Indigenous knowledge systems and practices (IKSP) by the Philippine Task Force for Indigenous Peoples Rights (TFIP). The works spoke a lot about the continuation of Lumad education amidst the worsening attacks from state forces and Lumad narratives of resistance.
In the photo essay entitled, "Tuloy po kayo: kung may Lumad Bakwit School," Lumad students and their teachers were able to explain why the Lumad Bakwit School existed in the first place.
"All we wanted was to drown the sound of planes and bombs and gunfire so we could concentrate on our Science and Math. But the sounds kept getting in the way. We wanted so much to learn and be in school, but we were afraid, afraid of getting shot, afraid of not finding the future that our communities had envisioned when they set up the school, afraid of growing up without having had the means to fight and defend our people, our lands and our rights.
Thus, it was decided that we had to move to a great city to bring our case to the people. We wanted to tell all who would care to listen: Please help us. Our schools have been padlocked. We are being shot at, vilified, and threatened.  Our teachers and students are being killed—all in the name of Martial Law. Martial Law is a monster eating Lumad children alive!  Martial Law must end if the Lumad communities must continue to exist!"
The essay narrated the experiences of Lumad students in navigating to the city and the changes that occurred as they continued their education—the multiple volunteer teachers (whom they described as more "numerous than all the trees and plants in the mountains"), the poverty, the traffic, and their musings on how institutions break down and how corruption and injustice in the government affect people.
The essay also explained the Lumad Bakwit School pedagogy: subjects taught were framed to be nationalist, pro-people, and scientific. The goal is to liberate and not to remain in the shadows of colonial and neocolonial education. Philippine society is a classroom where people learn the realities of life, and people's education is their key to change the oppressive and violent system that drove them away from their communities.
Similarly, in her essay "Hindi Totoong Paaralan ng Rebelde ang CTCSM (CTCSM is not a school for the rebels)", Jie An describes how such liberating pedagogy is practiced in the Lumad schools.
Ang paaralan ay para sa lahat ng kabataang gustong makapag-aral nang walang binabayaran. Hindi ito nakabatay sa salitang "academic" lamang para makakuha ng outstanding award, kundi, mayroon itong "three legs" na  kailangang gampanan. Ang tatlo ay Agriculture, Academics, at Health.
(The school was established for students who would like to access free education. Students are not limited to the academic strand to gain an outstanding award. Instead, they have to pursue the "three legs" which are composed of agriculture, academics, and health to excel.)
Unlike the mobile Lumad Bakwit School, the CTCSM is a boarding school based in Southeastern Mindanao, with physical facilities. Jie An writes in her essay that equal opportunities for girls and boys are given, and each have roles to play in the three areas. Students are also taught to respect one another's cultures and cultural practices, since they belong to different Indigenous People's groups in Mindanao. Most importantly, they are taught to respect one another's rights and to treat each other equally to challenge existing feudal and patriarchal relations.
Writing also allows the Lumad students to navigate their personal experiences and relate them to  the larger oppressive system.
Welgen's personal essay is deeply about how poverty hinders him from attending school. He speaks of his father, working very hard on the farm to earn only a meager amount of money to support their family's daily subsistence needs. Because their family didn't have enough money to send them to school, he, as a young boy, also had to work to be able to go to school. Even in school, he had a hard time understanding the lessons because of hunger.
Inakala kong makakapokus ako sa pag-aaral, ngunit hindi, dahil ang gutom ay umaatake. Hindi mo alam kung ano ang talakayan sa klase.

(I cannot focus on my studies because I am hungry. I cannot understand the discussions in the class.)
Welgen's essay also notes how important education is to Lumad children and youth, that it is a right that the state should have been providing. He writes that his pangarap (or aspiration), should he complete his college education in CTCSM, is to become a teacher—to go back to his community and contribute to liberation through education; however, this dream was shattered when the Department of Education cancelled the permit of the school. The school was also subjected to further attacks because the government issued trumped-up charges against its administrators. During the height of the lockdown, police and the local government units (LGUs) also attacked the school, forcibly taking the students from the premises of the school in the guise of rescue operations.
The lucidly written essays and poems not only aim to raise awareness but also speak about shared action—collective action through movement-building. Most of the works emphasize the students' need to defend their tribes — their need to assert their right to determination and to defend their ancestral lands. Dwayne's poem, "ang tribo kong Mansaka" (My tribe, the Mansaka) captures the resounding cry of his tribe affected by the threat of foreign capitalists.
Ang tribo ko'y nalalanta
unti-unting kinain ng gunting
at nalalaos na rin sa paghinga.
(my tribe is withering / Slowly sheared by scissors / And barely breathing)

–

Ang pangalan niya ay
gaspang sa balat ng barya
tatak negosyo ang kulay
Na pinagsaluhan
nilang mukhang pera.

(His name / Is a rough edge of the coin / Business is its color / Shared by the greedy)
Dwayne's other poems, "Volunteer" and "Letter" (tackled his reflections as a student in the Lumad school. Here, he contemplates life inside the school as a volunteer, having to think of his family left in the community but seeing the bigger picture and participating in actions to change the system. In "Letter," his lines constantly question whom his writing is for.
Daghan pang letrang isuwat

Para sa bulahanong panawagan
Karun, Pangutan-on tika:
Para asa ang imong pag suwat

(So many letters to write/ For our calls / Now I ask you: / For whom is your writing?)
Movement-building is also an integral theme in the written works of the Lumad Bakwit School students. In their suite of poems, they narrate their ordeals and how they harness their sense of empowerment from the collective actions that they do as Bakwits, with the help of advocates. Duterte's counterinsurgency program and its premise of rescuing the Lumad children from "NPA recruiters" are debunked.
Lala's poem, "A step forward" narrates her experience of being forcibly evacuated and finding refuge in the city:
From our young age I have known / that I must leave / to make you hear / my small voice. Forced to evacuate and part from our parents / we pack up our experiences. / As I walked away I chose not to look back / because I cannot bear to see my parents cry. Finding refuge in Manila, / we spend time for our calls / to seize back / the future stolen from us.
Aragene's poem, "Movement" explains the importance of collective action in seeking justice:
We advance/ marching hand-in-hand / fighting wherever / to seek justice.
Reading such poignant pieces from the Lumad youth proves that writing as an art form is their way of remembering their communities, the families that they have to temporarily leave behind so they may seek justice. As for the future of the Indigenous communities, their written narratives offer hope that the wisdom and knowledge gained from the collective struggle to resist attacks will live on. It will be passed on to the future generation of brave and resolute Lumad youth. As one of the Lumad youth writes,
Hope is clear: / In the waters of this creek are the waves of war against our oppression.
These works help hold on to Indigenous wisdom amid all the desperate attempts to revise the history and identities of the Lumad.
Note: Works by the Lumad students can be read in the PAGSALIN Anthology of Indigenous Knowledge Systems and Practices published by the Philippine Task Force for Indigenous Peoples Rights, 2020.