The urban poor women's gardens at Pandi and San Roque and the three-decade land struggle of the farmers at Lupang Ramos transcend "arts and crafts." Their organized resistance, in the form of gardening, belongs to a long-running struggle that defies imperialist plunder, subverts capitalist-centered agriculture, and reclaims what has always been under the women's control: their land and their fundamental roles in the food system.
The Philippines as a Neocolony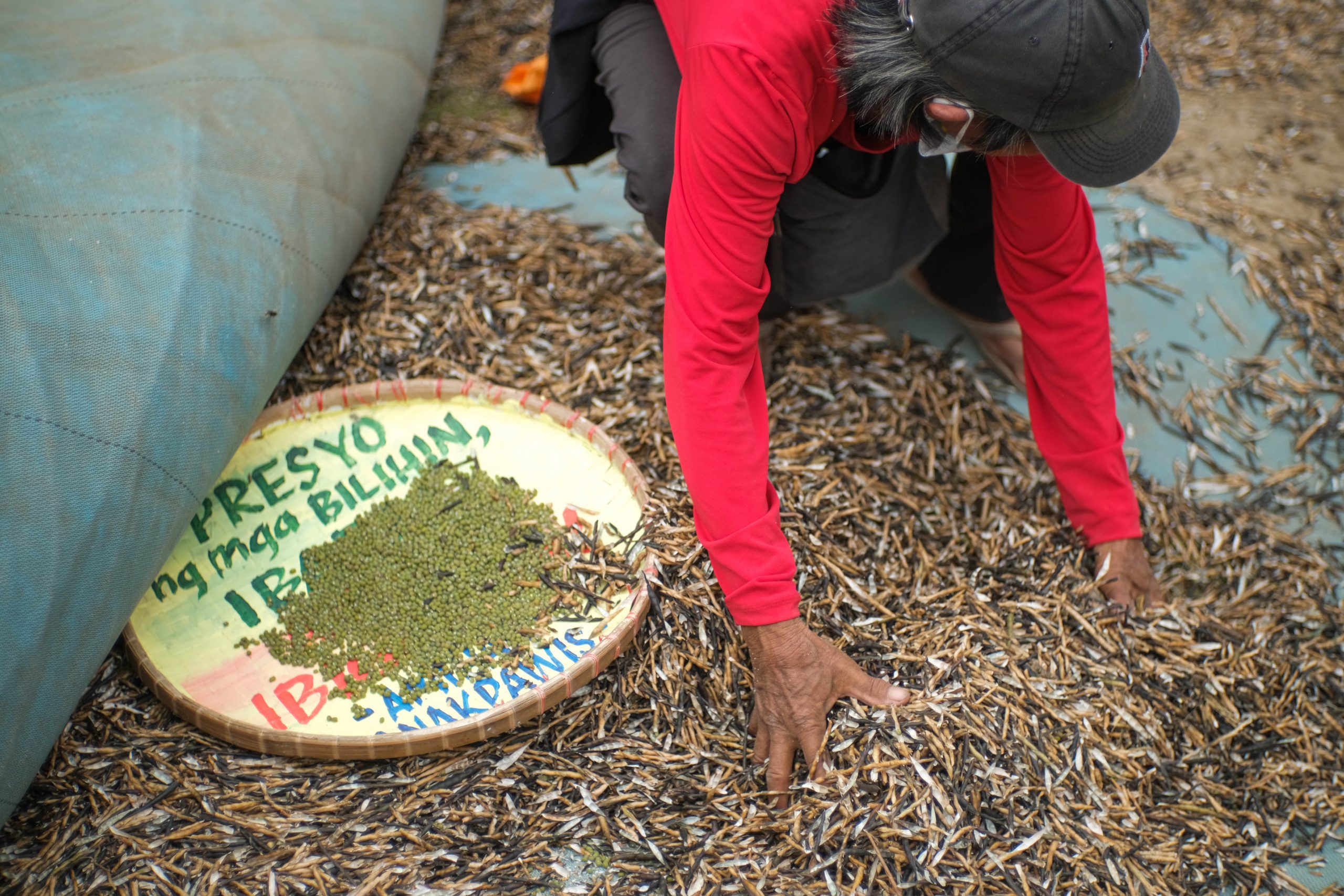 The colonial past of the Philippines has shaped the current agrarian situation in the country. Lupang Ramos, a 372-hectare land located in Dasmarinas Cavite, traces its history of land dispute from American colonial rule.
Today, because of bogus agrarian reforms, farmers of Lupang Ramos continue to face threats of displacement from the lands they till, particularly from the notorious joint ventures of landgrabber Ayala Land. Their struggle is one of the countless similar stories that landless peasants experience because the country remains a neocolony.
When the Green Revolution was introduced to the global South, it forced Filipino farmers to submit to neoliberal policies forged by Western countries. With farmers exploited by these policies, the state of Philippine agriculture became dependent on imperialist nations and Filipino farmers lost their autonomy and economic independence.
Most agricultural lands also belong to the hands of landlords and state bureaucrats who exercise corporate control of the land. Large corporations that own giant plantations are focused on maximizing profits—dictating that farmers plant cash crops such as bananas, pineapples, and sugarcane while depriving them of proper wages and land rights.
On top of farmers losing land autonomy, plantations use "miracle seeds" that are patented by multinational corporations and that heavily depend on chemical pesticides and fertilizers, which poison not only agricultural workers who work in inhumane conditions but also the land they till and the people who consume their produce.
Based on data from Unyon ng mga Manggagawa sa Agrikultura's "Imperialist plunder of Philippine agriculture: A research on the expansion of plantations through agribusiness venture arrangements in Mindanao," the country ranked as the sixth banana exporter in 2017, while it ranked third for pineapples, even placing as the top exporter of the fruit in the US. However, the regional minimum wage for agricultural workers in Mindanao, where most of these plantations are located, is below $8 per day, while the average Filipino needs $20 daily to survive.
With land under corporate control and the state serving its foreign masters instead of the people, seven out of ten farmers remain landless, while one out of five Filipinos suffers food insecurity. This dispossession then forces impoverished peasants to take their chances in the country's capital. Displaced from their provinces, they come to the Metro to look for low-paying jobs, but because of systemic problems rooted in imperialist policies, only suffer the fate of becoming the urban poor.
In Cavite, rural women experience threats of land-grabbing from the Ayala Corporation, one of the country's oldest and largest family conglomerates. In Quezon City, urban poor women face demolitions from the business ventures of the same landed family. With structural problems erasing spaces for marginalized rural and urban women, these women are left without a choice but to organize and fight back.
The Women Reclaiming Land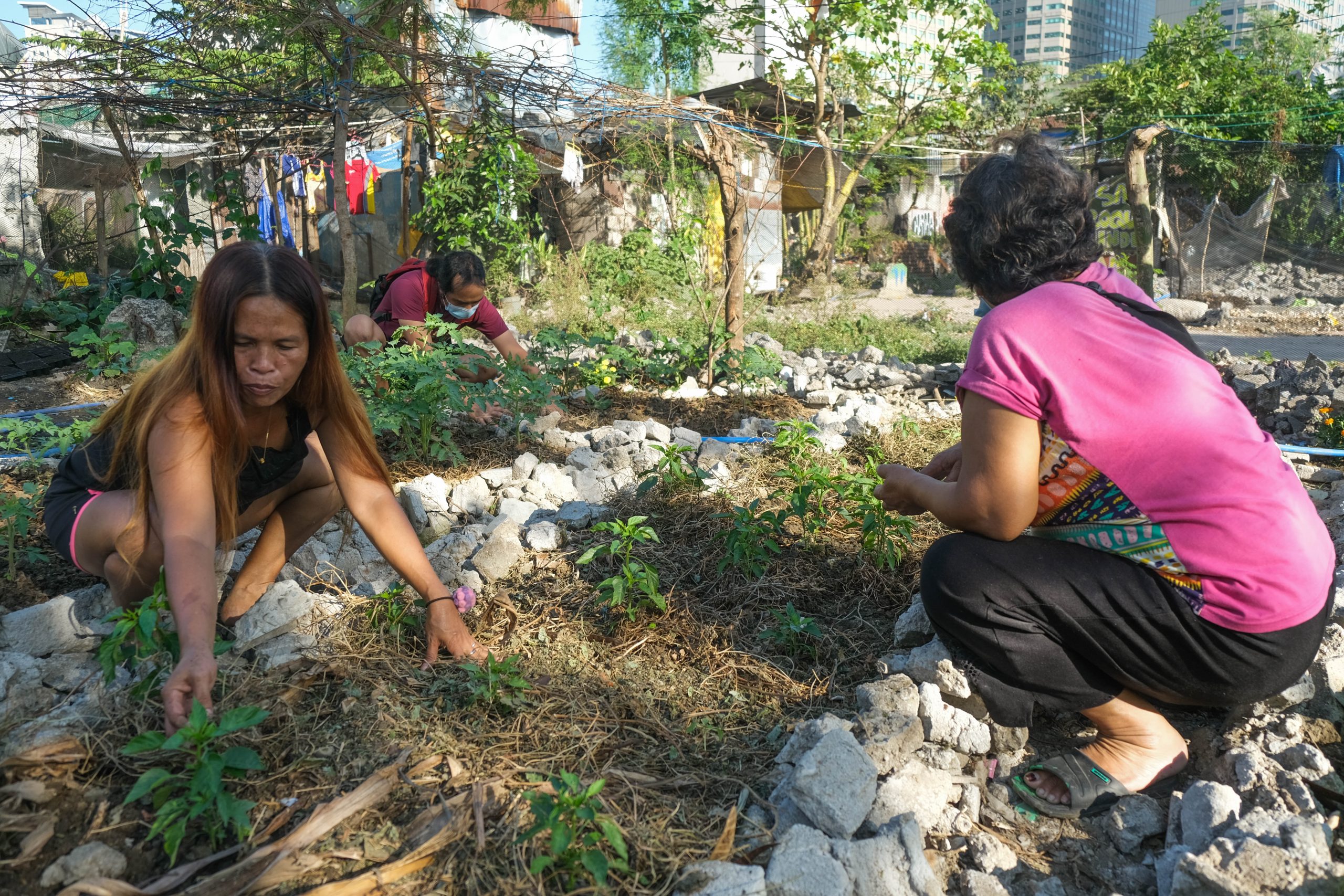 Carmina, Wena, and Inday are nanay, or mothers who came from Samar, Cavite, and Cotabato. They all came from peasant and fisherfolk families who moved to Manila to work as market vendors, caregivers, and maids, composing the country's informal economy.
After a long day of work, they take shelter in urban poor communities located in Pandi, Bulacan, and San Roque Quezon City. They cannot afford to rent homes located in gated subdivisions or invest in real estate because their measly incomes are only enough to support their daily expenses.
When Rodrigo Duterte placed the country under his militaristic lockdown in 2020, this meant another layer of instability to add to the precarity the poor encounter as informal workers who are considered fortunate to earn $10 per day. Nanay Carmina's small paper bag business stopped for months; Nanay Wena was laid off from her job; Nanay Inday still sold suman (rice cakes) but reported that her community was going hungry
The government's inutile "stay at home" protocol is impossible for daily wage earners to follow. The poor, whose bodies crowd in cramped spaces in the city, go out and work as service crew personnel, construction workers, and sidewalk vendors. Oppressive societal structures do not permit them to work from home nor allow them to practice physical distancing.
Establishments where these laborers work were tremendously affected by the ongoing lockdown and the government's criminal negligence in not responding to the pandemic with public health solutions, exacerbated the food insecurity in the country. With their husbands and themselves deprived of livelihood to support their basic needs, women went back to the work they left in the provinces: farming to put food on the table.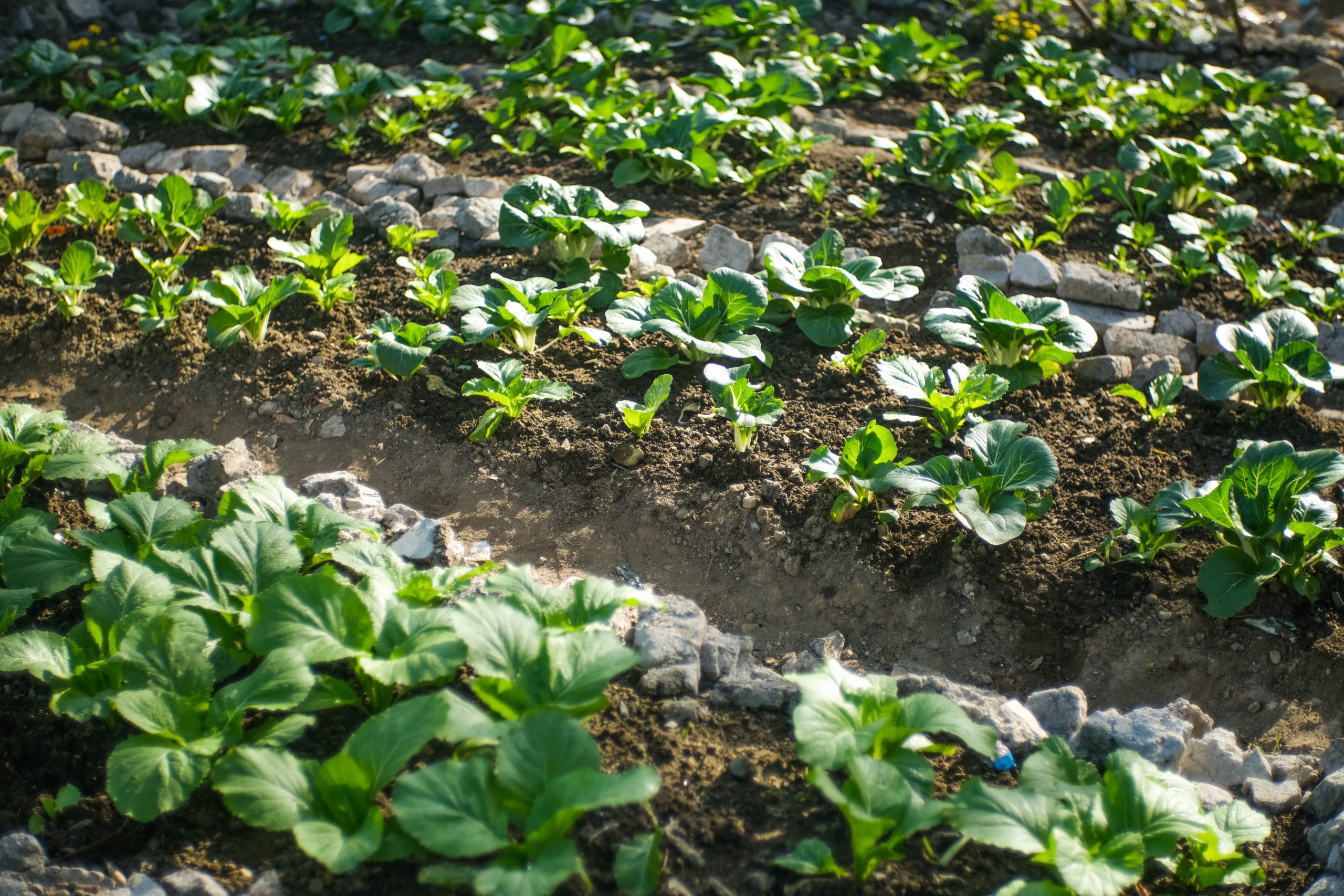 By cultivating small plots of food security gardens in their immediate communities, urban poor women are empowered to choose the seeds they sow on their land. Instead of planting cash crops dictated by plantation owners, marginalized women grow plants like cabbage, mustard, and pepper, which they can use as ingredients in their everyday meals.
Aside from exercising land control, urban poor gardens share the principles of permaculture. In monoculture systems practiced in large plantations, corporations enslave agricultural workers to cultivate large plots of land. In their gardens, urban poor women practice permaculture, involving the whole community in gardening and promoting a communal culture. Women take the lead in organizing systems to maintain the gardens, ensuring that the soil is cultivated daily and the crops are well-watered.
However, just like with any other form of resistance, the women are met with intimidation from private guards and state forces. Before finding spaces for a vegetable farms in San Roque, Nanay Inday reported intimidation from security guards. She had to seek approval from the National Housing Authority (NHA), the same entity that deprives the women of their right to homes. Private guards also questioned the women for bringing in soil.
In Pandi, militant women led the historic occupation of the houses back in 2017. Four years later, the local government has continued to deprive them of social services. Their houses still do not have access to running water and electricity. During the summer of 2021, some of the plots in Pandi dried out; Nanay Carmina has said that it is because the women experience difficulties in accessing water for their crops.
Still, because of collective action and strong community organizing, the women of San Roque were able to turn demolished houses into vegetable gardens in a month, and the gardens at Pandi remain intact, turning a year this August 2021. San Roque's initial harvest yielded large Chinese cabbages that even caught the attention of market vendors because of their larger sizes compared to cabbages found in commercial markets.
On harvest days in Pandi, vegetables are served from the women's backyards to their tables, and the women cook their meal together sharing the condiments, pots, and ladles they have at home. They eat their sumptuous lunch together while sharing stories about their days.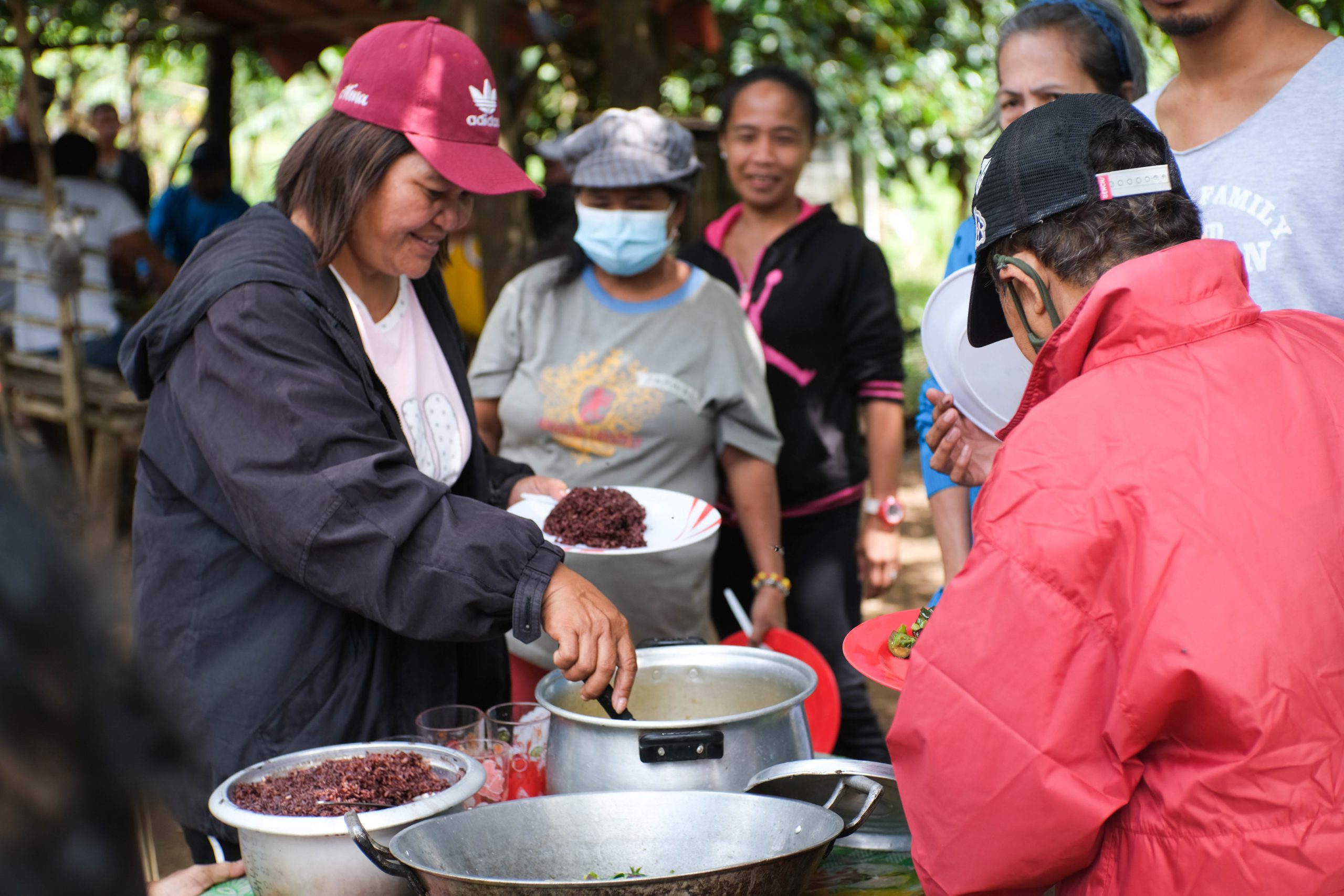 Both gardens subscribe to the principles of agroecology, an organic method of farming which "centers on food production that makes the best use of nature's goods and services while not damaging these resource," (Agroecologyfund).
In Pandi, women attended a bokashi composting workshop organized by Green Space, while in San Roque, women were taught by anti-feudal artists alliance SAKA to concoct fermented fruit juice, fermented plant juice, and oriental herb nutrient.
Nanay Wena now teaches women from other chapters to make fertilizers for their garden. Since ingredients for organic fertilizers are accessible at home, women from different chapters can easily make their own and then contribute them to the centralized garden.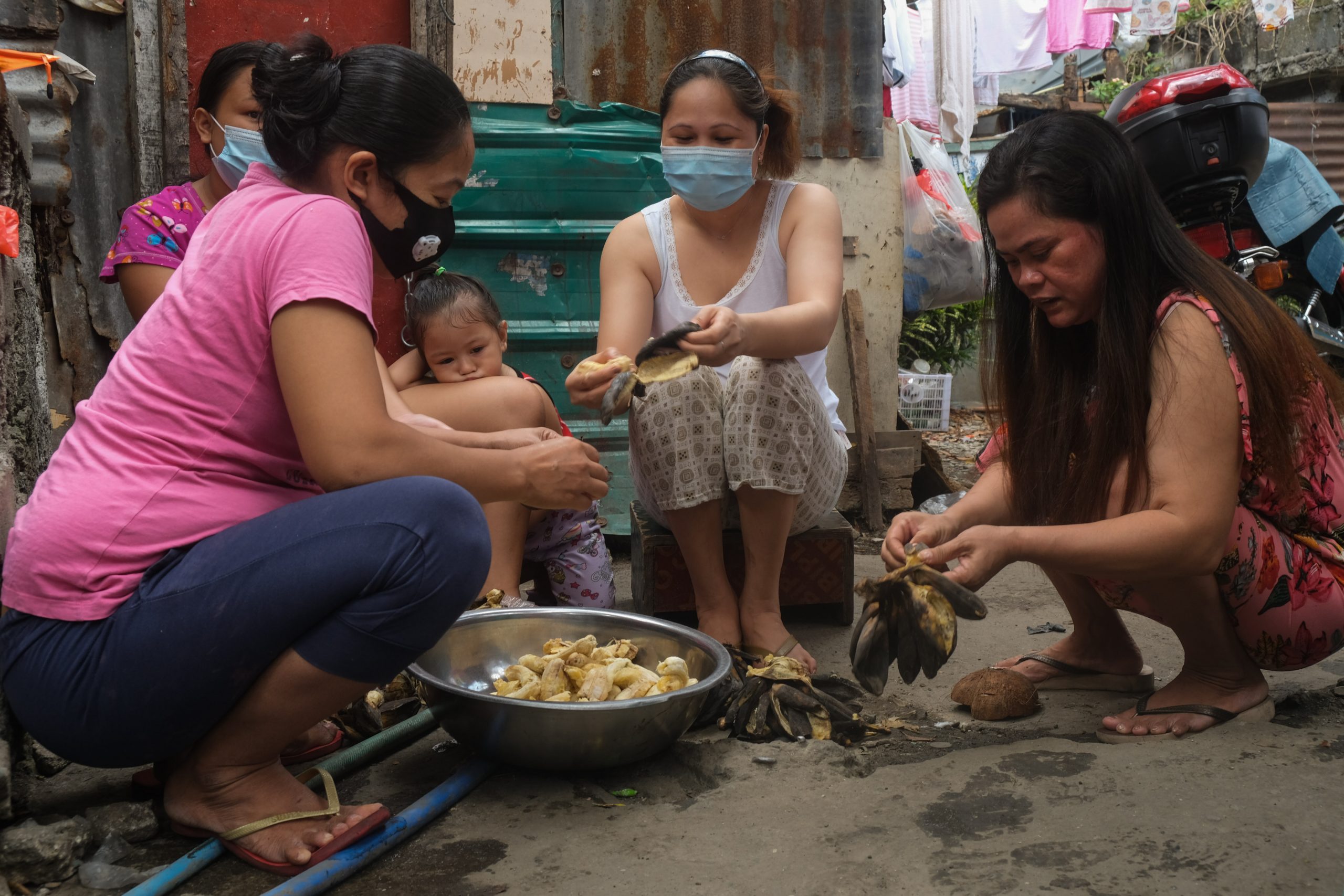 Aside from gardens, residents of San Roque also re-established their community kitchens which they first organized last year. They look forward to using the vegetables from their garden as ingredients in their community kitchen.
Political Movement beyond "Arts and Crafts"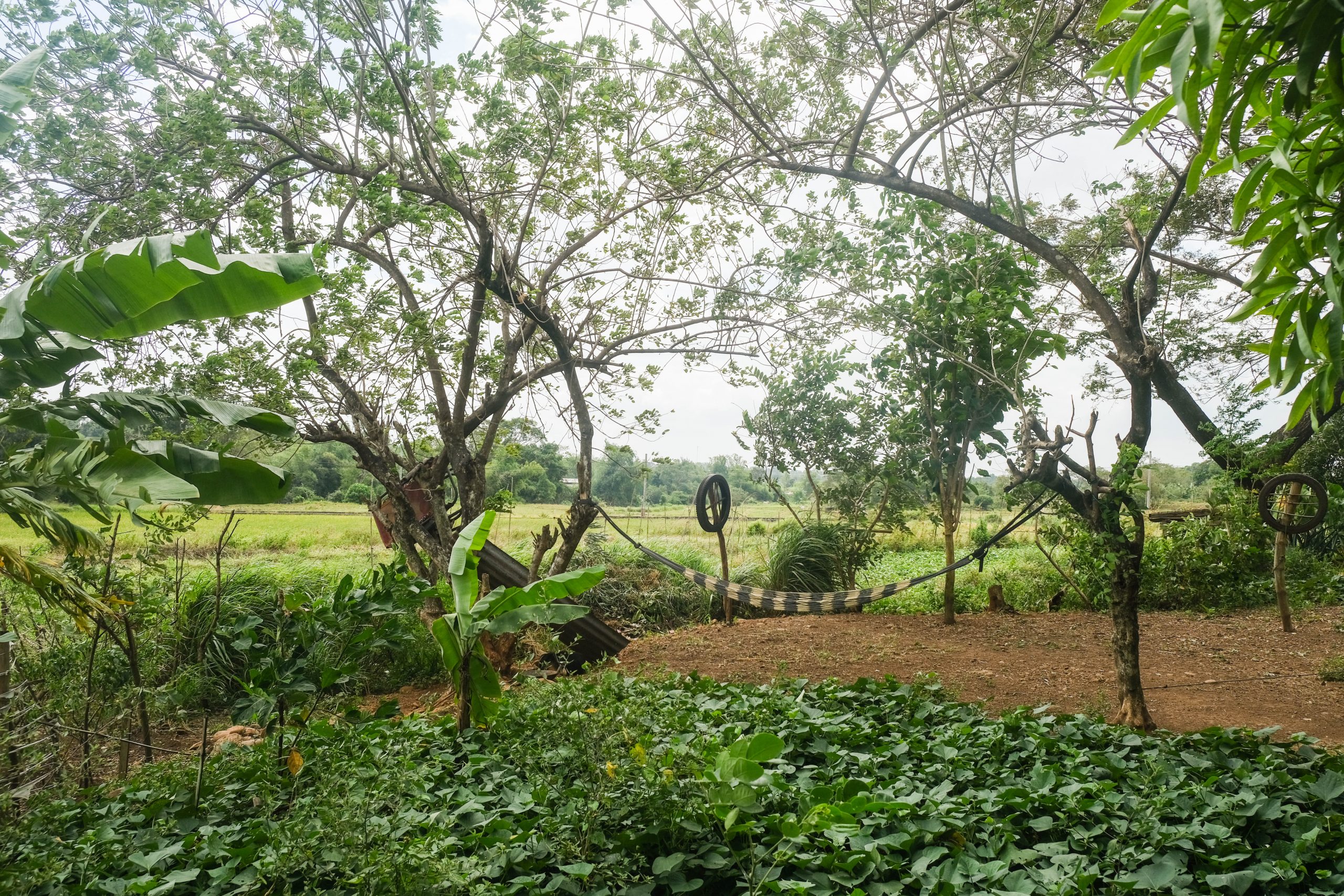 "Isn't art drawing and illustrating? How do I relate it to gardening?" were the questions Nanay Carmina asked when I asked how she sees art in their gardening.
Compared to dominant forms of art, such as paintings locked in galleries owned by the same land-grabbing elite and consumed by the few with purchasing power, Nanay Carmina sees their practice as largely communal, since successful gardening involves the whole community in the process.
"Art for me is anything that comforts me and makes me happy, and in our gardening, it occurs when more people are engaged. Because the more people committed to our gardens, the better they will grow, making more people happy," Nanay Carmina explained.
Initially, Nanay Carmina was hesitant to link the gardens to art, especially since they were primarily borne out of hunger, rather than as artistic expression. In fact, for Nanay Wena, the gardens signify the government's lack of pandemic response, which worsened the situation.
Nanay Wena, however, likens the time and preparation that gardening requires to the preparation time that is needed for dominant forms of art, such as illustration and songwriting. Nanay Carmina, on the other hand, eventually realized that their practice can also be considered as art since, like any other art form, it involves imagination.
"Don't you need imagination for art to improve? It's the same way for our gardening—we think of ways on how to involve the community for it to grow," asked Nanay Carmina.
"Everyone can make art because everyone can think. However, I think imaginations also differ per class. The rich perhaps imagine how they could go abroad, become richer. But the poor's imaginations are simple, as for me, I only want a house and to survive daily. If art involves imagination, our gardens are art because through them we imagine and contribute to building better communities," added Nanay Carmina.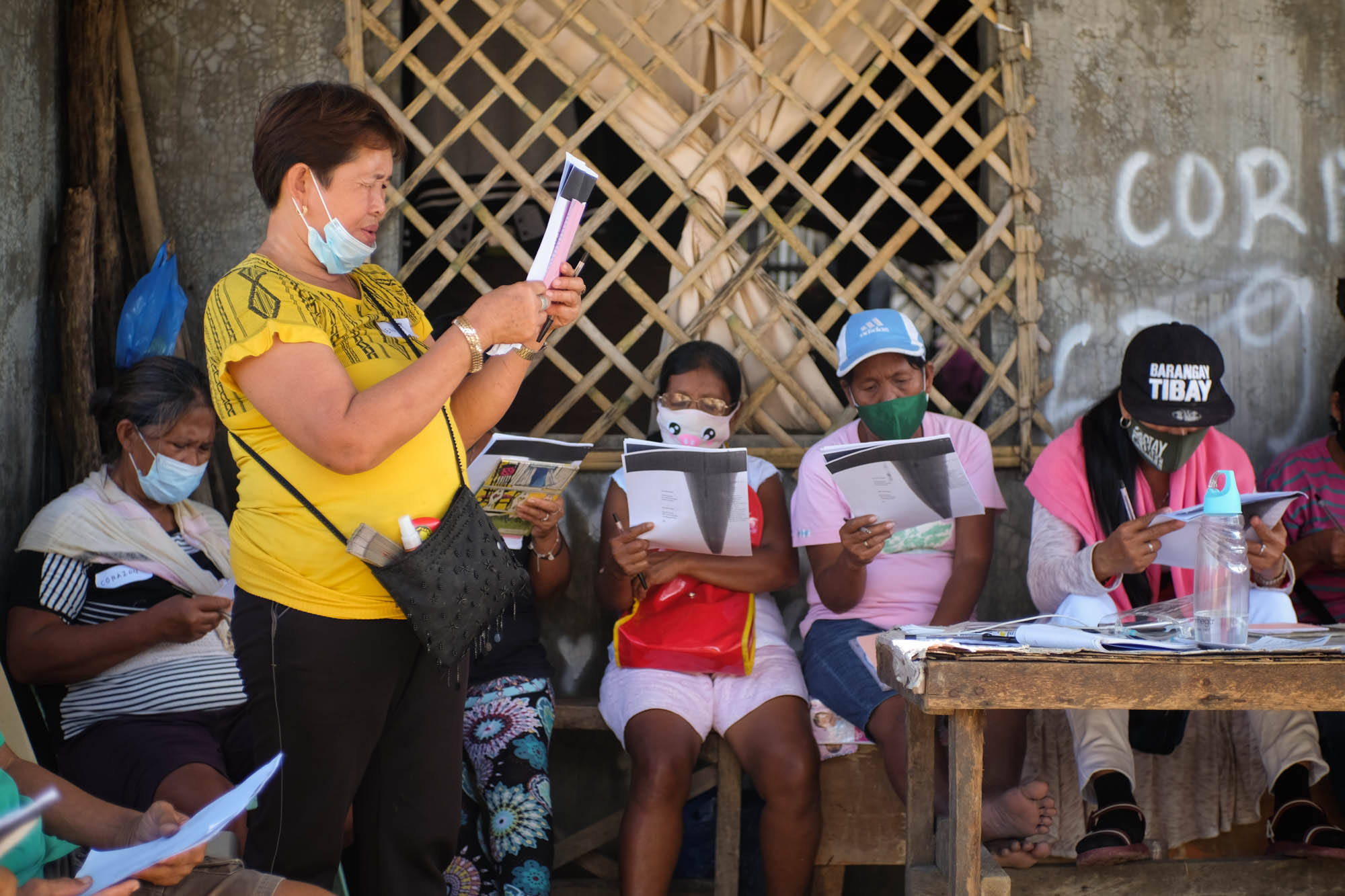 The theme of this online dossier is "Arts and Crafts in Women's and Feminist Struggles under Duterte and COVID-19," and while art comes in multiple forms and gardens can be considered art, the women gardeners of Pandi and San Roque envision their gardens as operating beyond "artistic" resistance.
Perhaps it makes sense to describe the gardens as creative forms of resistance, especially when the common demonstrations we see in the cities come through protests and effigies with the masses using chants and placards to communicate their calls.
And while there is nothing wrong with thinking of gardening as a form of arts and crafts, this view should also be coupled with the recognition that gardening is an everyday mundane activities for landless peasants and urban gardeners and that this form of resistance, beyond the label of art, belong to larger political movements borne out of necessity for genuine liberation.
While women noticeably subvert patriarchal structures by taking the lead in these movements, it's also crucial to recognize that the everyday unpaid care work of urban and rural women inside their homes when they nurture their families and in their gardens when they tend their crops is oftentimes under-recognized essential work that allows systems to function. Prior to capitalist brainwashing and privatization, women were already the foundation of society.
Bungkalan and the Longtime Struggle of Peasant Women
More than arts and crafts, the gardens at Pandi and San Roque can be considered as the urban counterpart of the bungkalan found in haciendas and at Lupang Ramos. Bungkalan is a movement of landless peasants and hacienda workers asserting their land ownership by establishing alternative farming systems that negate exploitative, semi-feudal conditions.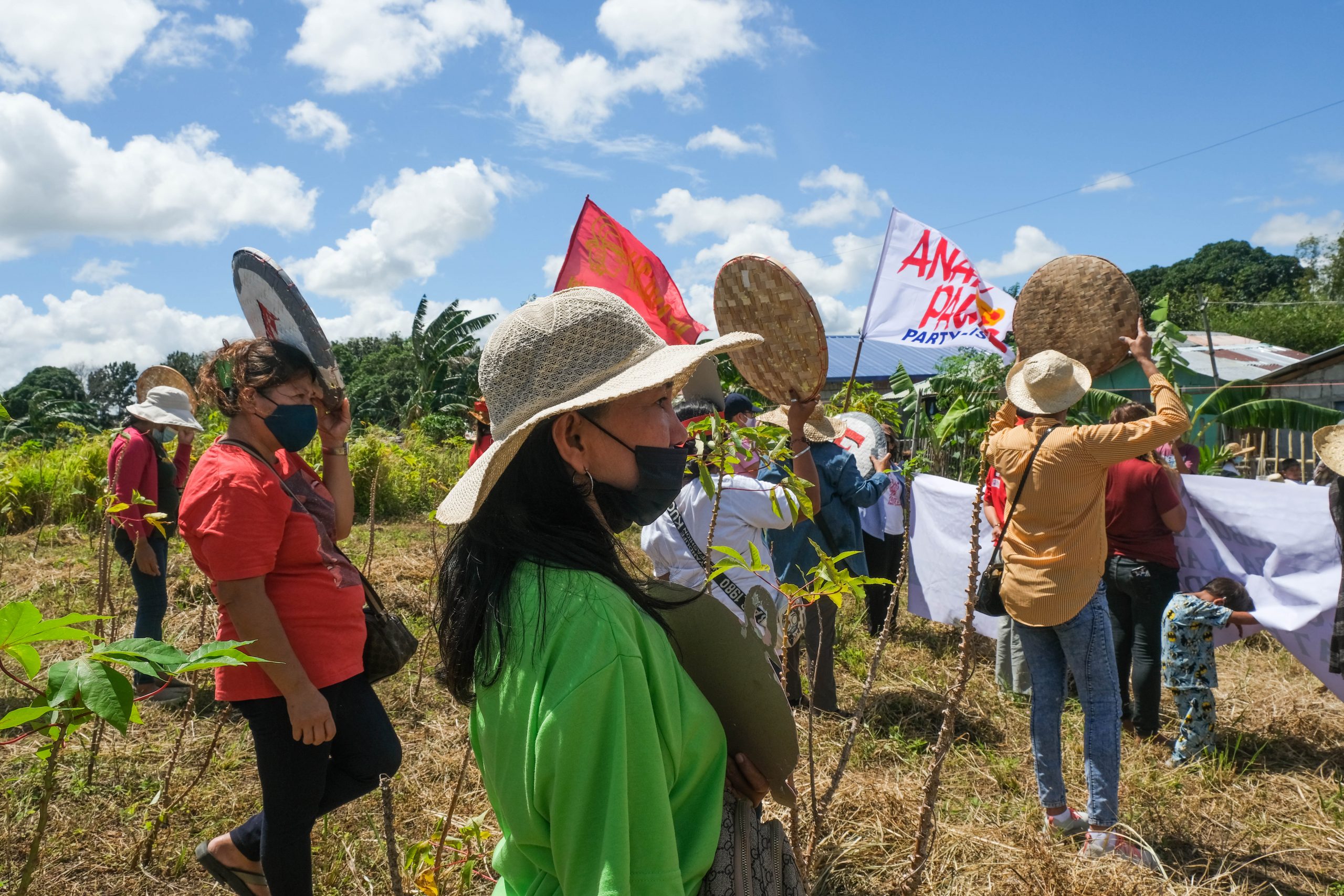 Rural women at Lupang Ramos took the lead at establishing bungkalan in their community in 2017. They cultivated 51-hectares of land where they harvested sweet potato, corn, and cabbage for their own consumption. Food security gardens were primarily created in the Metro to address food insecurity, but for peasants in the countryside, this political movement is also part of their struggle for free land distribution and genuine agrarian reform
In Lupang Ramos, Nanay Miriam recalls the many women leaders before her who stood their ground against violence instigated by state forces. She looks up to Nanay Masang, a peasant leader before her who fought a tractor by tying a good morning towel to its driver, threatening the man with death if he runs over their crops—because she will tighten her grip. Nanay Miriam remembers Nanay Masang as one of the most daring and fearless women leaders she encountered and hold onto her memories of her even today.
With their three-decade strong resistance, Nanay Miriam says they are on the path of winning the national democratic struggle towards genuine liberation and emancipation. And through gardens and political movements motivated to feed the community, urban poor and rural women join together in creating an alternative economy that rejects the system that imperialism, monopoly capitalism, and feudalism thrives in, and struggles for land and food sovereignty as they reestablish food systems under the hands of food producers.
Further reading
Bungkalan: Ang karanasan ng mga manggagawang bukid ng Hacienda Luisita sa organikong pagsasaka at pakikibaka para sa tunay na reporma sa lupa: Manwal sa organikong pagsasaka. Diliman, Lungsod Quezon: Sentro ng Wikang Filipino, Unibersidad ng Pilipinas, 2017.
Imperialist Plunder of Philippine Agriculture: A Research on the Expansion of Plantations through Agribusiness Venture Arrangements in Mindanao. Quezon City, Philippines: Unyon ng mga Manggagawa sa Agrikultura (UMA), 2019.
Lupang Ramos: Isang kasaysayan. Makati, Philippines: Gantala Press, at Amihan National Federation of Peasant Women, 2019.
Cover image: Urban poor women of Pandi harvest sweet potato leaves for lunch.