The day before Mother's Day, the Amihan National Federation of Peasant Women launched the #DefendPeasantWomen campaign, responding to intensifying state-inflicted violence against peasant women in the Philippines. The campaign highlights rampant human rights violations suffered by peasant women community organizers as a result of the Duterte regime's fascist crackdown on its critics. The campaign, which included social media rallies, the filing of a petition at the Commission on Human Rights, and an online forum, sought to hold the state accountable.
Among the artist advocates forwarding the campaign is Yllang Montenegro, a migrant worker, feminist, and artist from the Philippines. She is the founder of Empowerment Through Art, a collective that raises funds for grassroots organizations and aspiring artists while promoting awareness of national issues. She is also a volunteer artist for Rural Women Advocates of the Philippines and depicts the struggles and calls of Filipino women farmers, fisherfolk, and agricultural workers across various mediums.
Artists like Yllang have played a crucial role in pushing forward the campaigns of progressive  Filipino organizations within virtual visual culture. Horrifying stories of violence against peasant women are widely left unheard, neglected by mainstream media outlets. By crafting images of peasant resistance and sharing them on social media platforms, these artists help bring issues such as landlessness, lack of crisis aid, agronomic underdevelopment, and the slaughter of activists from the rural periphery to the digital public's field of vision.
This interview features Yllang's works on cloth, one of the prominent mediums in which her work reflects consciousness for the rural feminine. Letter-patched cloth banners calling for land justice and an end to fascist violence are also among the trademarks of the Amihan National Federation of Peasant Women and its volunteer arm, Rural Women Advocates, at protests. As Yllang notes early into the interview, needlework remains largely gender charged in Philippine culture. In these works that defiantly embrace their gendered association, the multilayered struggles of peasant women are untangled and cohered into images of resistance through cloth, needle, and thread.
Camille Rosas: Why do you sew and make art during this pandemic?
Yllang Montenegro: Ever since before, I've had a feeling of wanting to make things or images that can be thought about and felt. I was interested in things that I haven't yet done or experienced, such as sewing.
I remember that in high school, we had a subject called T.H.E or Technology and Home Economics. We were made to sew but I wasn't really interested in it, as I was more interested in playing the guitar and drawing. It was because back then I felt as though sewing were too much of a thing meant for girls. Back then, I was also being forced to learn how to play the piano because my aunt, who was taking care of me, was good at it.
Since the only stitch I knew how to do was the running stitch, I only started sewing last year. I was inspired by the workshops of the Amihan National Federation of Peasant Women, Rural Women Advocates, and Gantala Press. I was in Japan back then and always used to see their posts on their social media. I was amazed at their work.
I often read about and studied a number of sewing techniques. I also always asked my friends how they were able to form their works with cloth, thread, and needles. I greatly admired the beauty of my comrades' output, which is why I tried sewing last year. The interpretation of sewing is truly different when it comes with stories of experiences.
I have sewn and made art during the pandemic because firstly, I was interested to learn. I feel as though I'm always hungry for knowledge, and want to learn many different things, especially with regards to creating. Second, I constantly feel inspired by my comrades. It's true that you can move alone but it will be more powerful if you move with a collective. This is really where I end up, even if sometimes my themes in making art change because of the plates I have to submit for school, I still end up making art that comes from stories. Third, this is my way of carrying on with my everyday life. I guess I could say it is my process of healing, to relieve myself from the worries and disarrayed thoughts especially during a time of turmoil; to relieve negative thoughts about what I'm facing in life. The fourth reason is so that I can express my own views, which is very important especially for me who can't speak that much, I express my thoughts and feelings better through making images.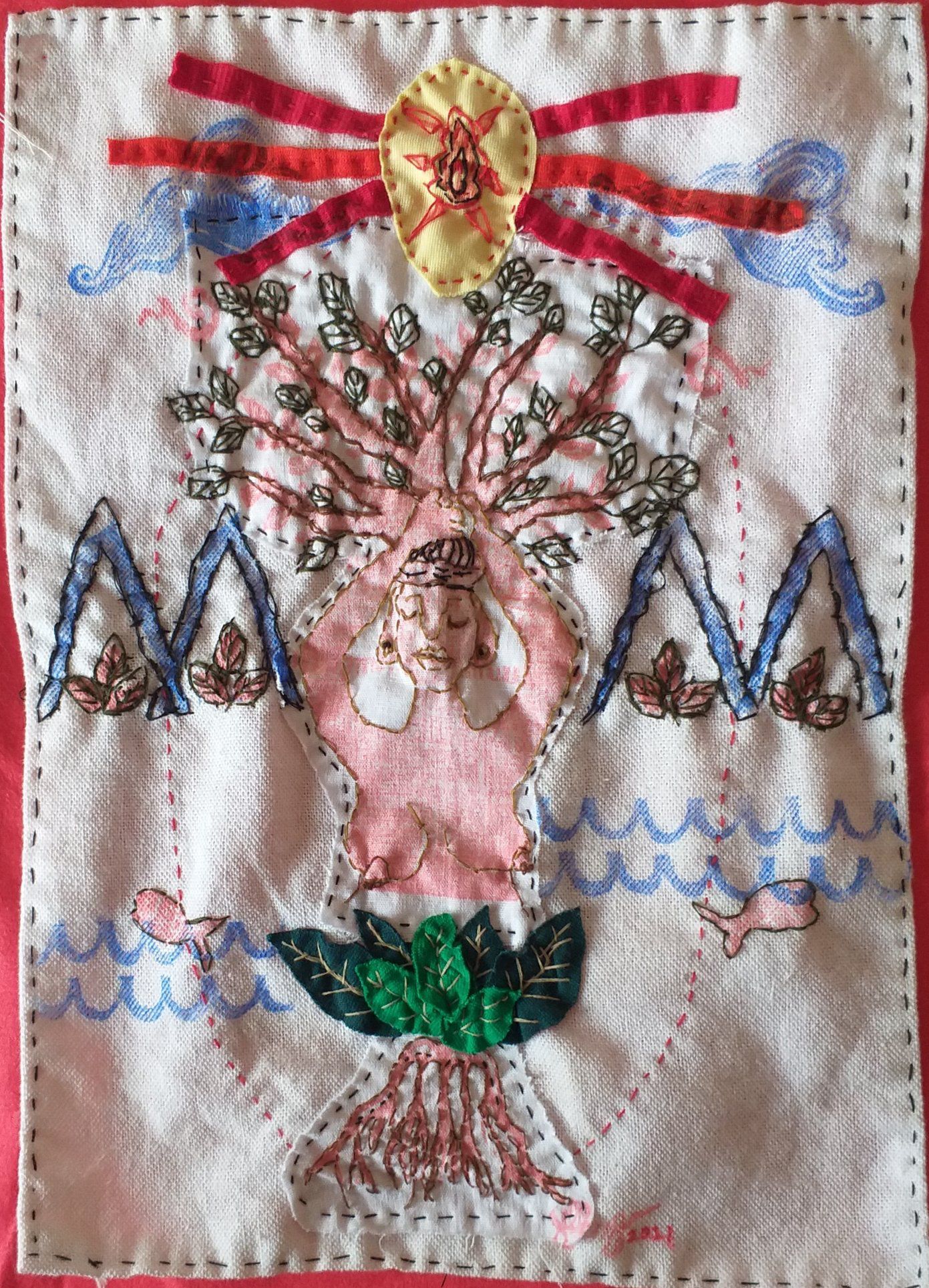 CR: How do you relate the campaigns/issues of peasant women in your works?
YM: I personally relate to the issues of peasant women because first of all, I am a human and a woman. The issues of peasant women are my issues as well. As an individual, I feel as though the making of art is a responsibility. For me, the making of art that expresses the issues of peasants is the only thing I can do for myself and for my comrades. This is why for as long as I can, I will create every day. I feel as if my day is wasted when I've done nothing.
Perhaps I can compare this to being a mother, or myself as a mother, where my responsibility to my family is similar to the issue of peasant women.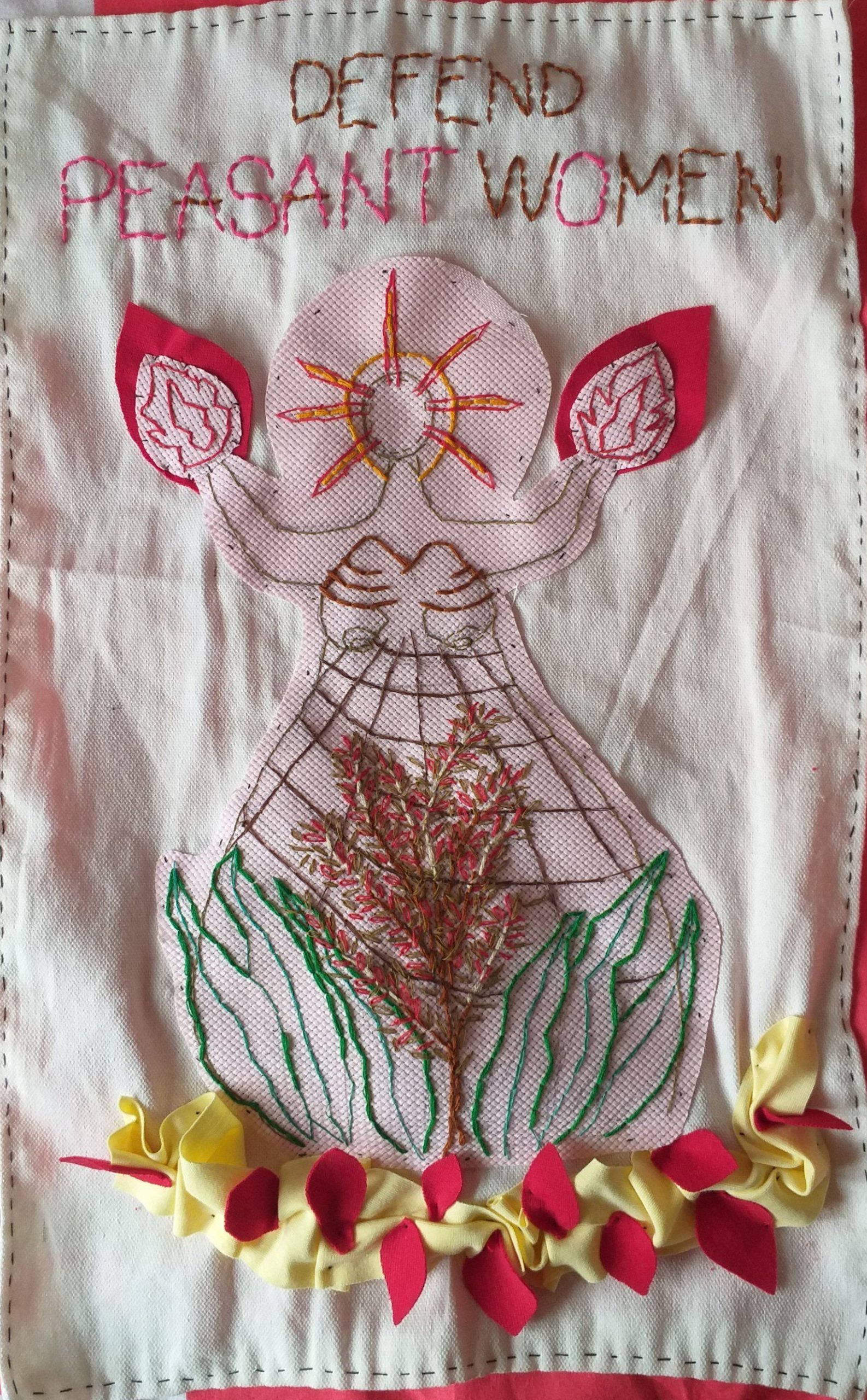 CR: How do you see the creation of art as a form of resistance?
YM: Making art corresponds to an emotion, whether this comes from anger, frustration, or joy and love.
In my opinion, even if a concept is still being formed in the mind of an artist, it already has a feeling of resisting oppression. This goes for any image, because as long as the artist has a strong foundation of resisting oppressors, this will emerge in the images that they make. This cannot be denied, as this has happened to me personally.
Sometimes it is hard to explain an image, as it is something more felt [than articulated].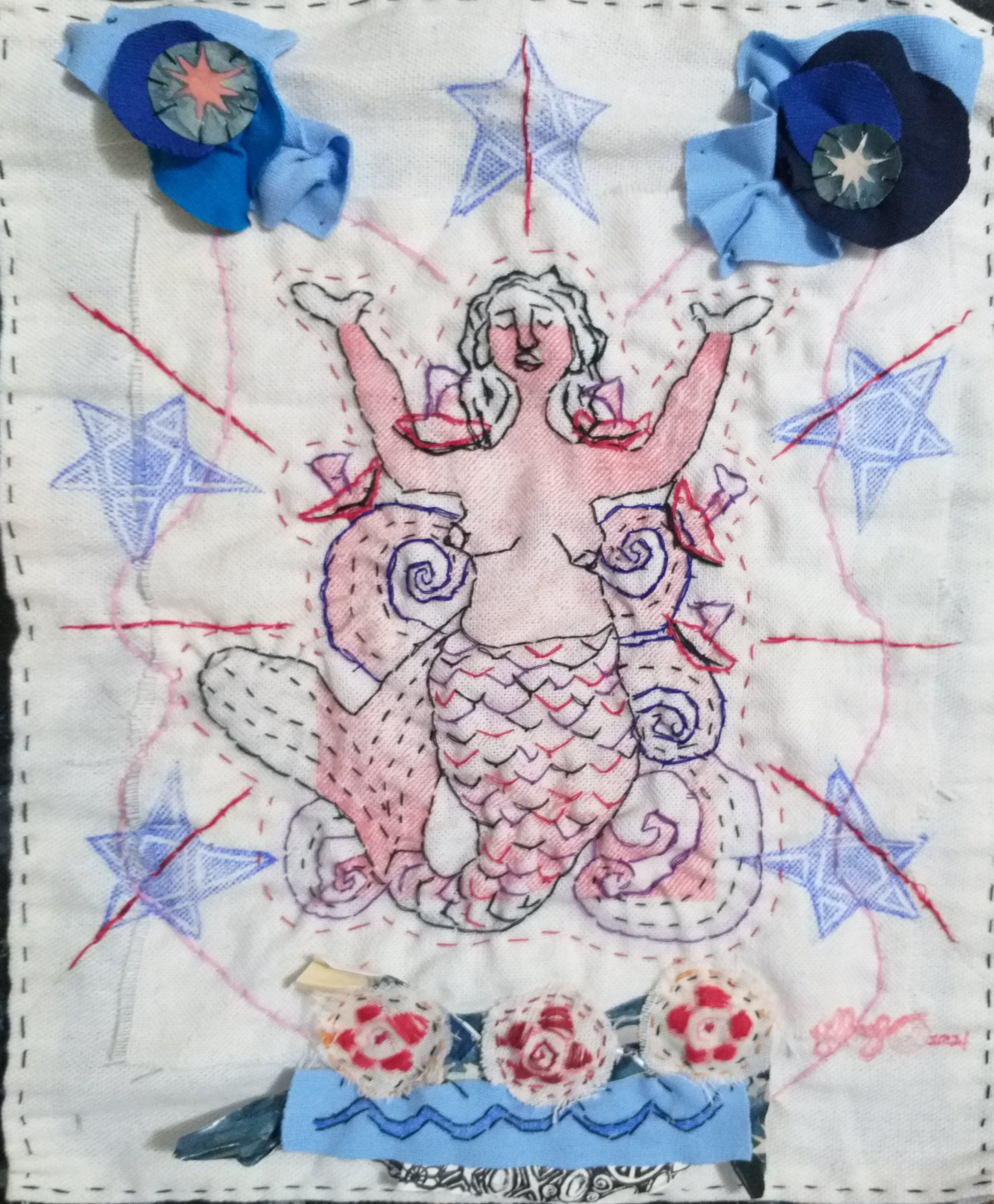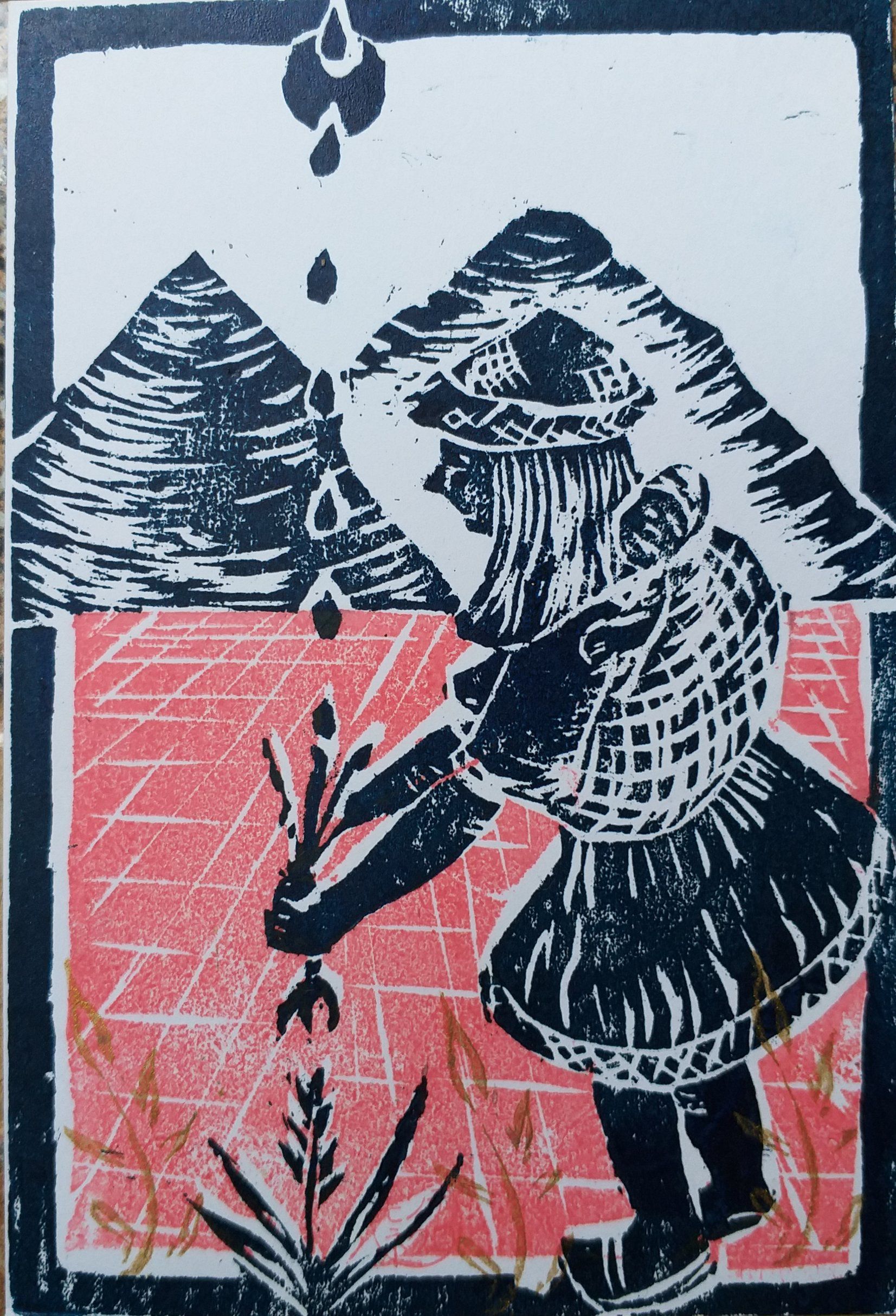 CR: Can you tell us your process in making Defend Peasant Women artworks?
This is not only for the process of making Defend Peasant Women artwork, but when I make art about peasant women— this may sound weird— I feel as though there's a spirit merging with me. I lose myself when I am in the process of creation. Often my compositions are messy and lose the essence of design. I also have a hard time balancing my compositions because there are so many images that emerge from my mind. It may be that these come with the chaos happening now in our country and all over the world.
The Defend Peasant Women artwork that I made is not the only one; there are many of these and each uses a different art-making technique. After this work I also made another from a print that I made last year, from another old painting of mine called Adora.
I feel as though creating an image is similar to the unending calls of my comrades in the streets or on social media. The art-making process goes together with [the work of] my comrades who are writers reporting and integrating with the community, listening to the troubles of everyday citizens. These works may be simple when you look at them, because there are only two or three stitches involved; the running stitch, back stitch, and machine stitch are all that made up this printed image but I feel as though the needle and thread give life to an image to strengthen the call of "defend peasant women."
CR: Can you share the different artworks that you've done since ECQ was declared?
YM: Since 2020, I think I've done a lot of artworks, from sketches to prints, wood and rubber carvings, figurines, and sewn works.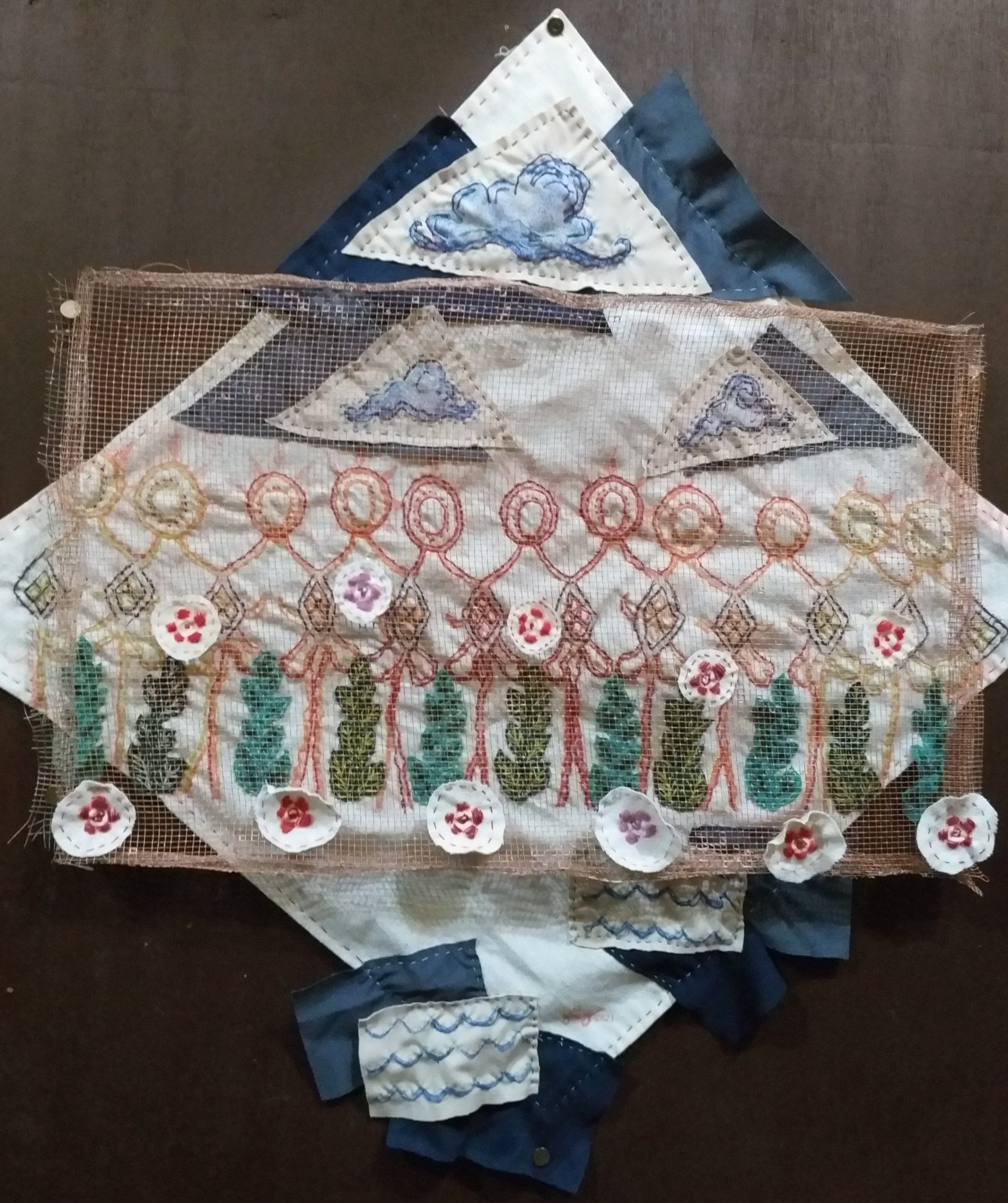 Translated by Camille Rosas
Yllang Montenegro is a migrant worker, feminist, and independent artist from the Philippines.