With the violence of the patriarchy becoming more prominent and exacerbating worsening socioeconomic conditions around COVID-19, circumventions and confrontations have been necessary as strategies for survival. Art, with its tradition of disestablishing flawed systems and infrastructure as well as exposing truths and reflecting societal realities in different perspectives, plays a significant role within these circumventions. As state violence and machismo increase, people's resistance naturally becomes more radical and feminized, and so do the creative forms of expression that come along with it.
The macho-fascism of Duterte's regime in the Philippines is evident in all aspects of his leadership—in militarist repression in the form of both lockdowns and the Anti-Terrorism Act of 2020, which criminalizes dissent; in enabling demolitions, large-scale mining operations, and land grabbing in urban and rural communities; in neoliberal policies that hurt the people's economy and serve macho-imperialist states; in negligent and anti-scientific solutions to the coronavirus; in the appointment of misogynist leaders and the creation of a diabolical task force against communists; in mass murders and illegal arrests of the poor, activists, farmers, Indigenous people, women, and children. The list goes on.
It is these acts of violence that keep the majority of Filipinos hungry and in poverty. Lack of sufficient relief and financial aid during the pandemic is violence. Keeping farmers landless and food insecure is violence. And for each one of these brutish acts, there exist reforms on one hand and counterviolence on the other. In between lie negotiations between ruling and oppressed classes, and wherever circumventions lie on the spectrum, there arise creative modes of expression—art, music, literature, etc.—as necessary tools in furthering the goals of causes, advocacies, campaigns, and offensives.
***
Barangay Pesante Combo is a folk group composed of peasant advocates from different organizations in the Philippines. Their original song "Lunas" was prompted by farmers' calls for relief aid and health solutions for the pandemic.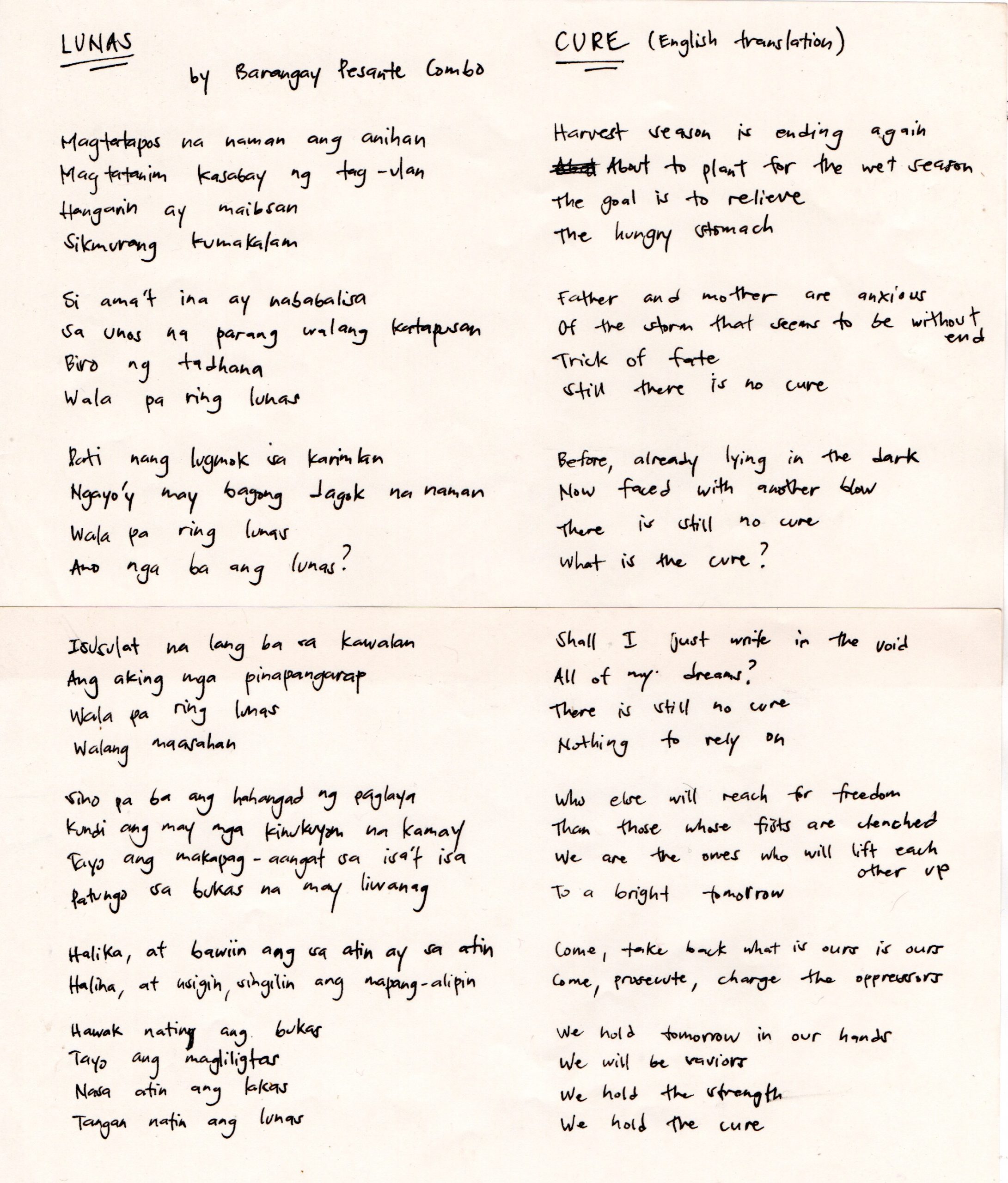 ***
More specifically, a mode of expression that easily crosses the realms of both popular and underground culture is music. Along with other art forms, music is a "tool on the cultural front," and a "social force for propaganda," according to the Composers Collective of New York. These definitions resonate louder if the music amplifies marginalized voices and serves the interests of the oppressed classes of workers and peasants, countering mainstream bourgeois agendas that enable systemic violence.
The movement for national democracy in the Philippines is imbued with such a rich tradition of music and revolutionary songs—I think that for every bad decision the government has made, there is always a song that critiques it. For every state-perpetrated attack, there is always a creative counter-attack, which is also true for other progressive forms of art and media.
If Sartre agrees that "counterviolence against the oppressors is morally justified as well as liberating and humanizing," then music with militant aspirations can serve as an underscore to this counterviolence, by virtue of its capacity to humanize.
***
Mga Dukhang Anghel ng Ginhawa at Liwanag (Destitute Angels of Comfort and Light) by Teenage Granny: a musical interpretation of an excerpt from a "pasyon," a Filipino religious text, written by Lino Gopez Dizon, titled "Pasyon ng mga Manggagawa" (Passion of the Workers). From chapter XXVI: "Karamihan sa mga Dukha Hindi Namamatay sa Sakit— Namamatay sa Kahirapan (Most of the Poor Die Not of Illness—But of Poverty)."
***
In addition to spreading awareness and amplifying people's demands, music is also a way of documenting and mapping memory, playing a role in reconstructing and correcting history. Ideally, it should narrate events and stories of the marginalized exactly as they are, in ways we should remember them. In this way, music can be an "organizer of social experience."
In mobilizations where different sectors are united by basic demands for rights, justice, land, and wages, people are brought closer together through chant and song. It's a way of processing all of our emotions in struggle, helping us deal with anger, grief, fear, and death. At the same time, strong melodies charged with powerful and precise messages serve to arouse hope and foster empathy, strengthening our connections with each other against a common enemy.
***
"Hindi Namin Kayo Titigilan" is a poem written by peasant leader and peace consultant Randall Echanis, who was slain by state forces in his home on August 10, 2020. Here it is, made into song by Barangay Pesante Combo.
***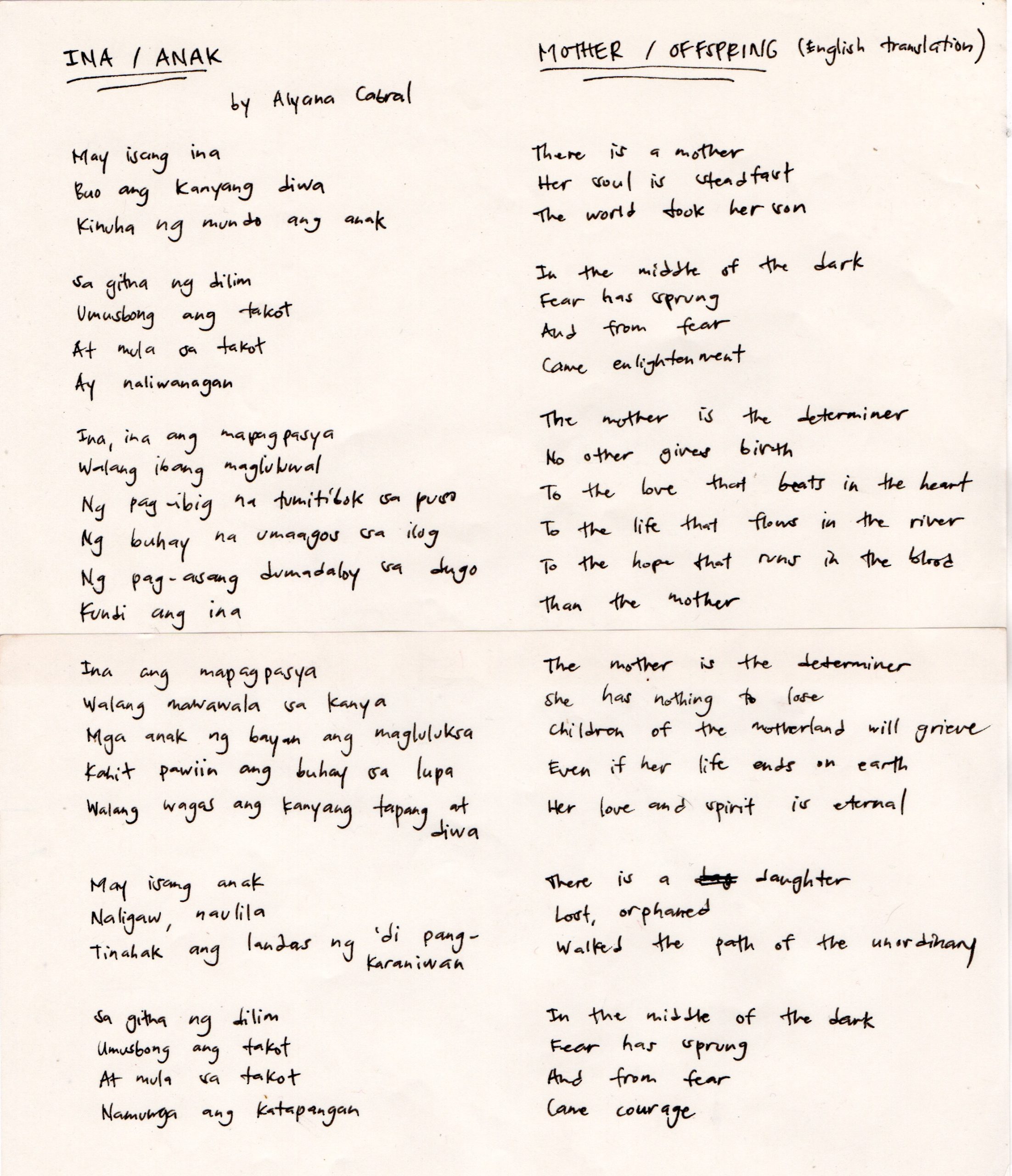 "Ina / Anak" was written by Cabral for Amanda Echanis and Baby Randall Emmanuel, Reina Nasino and Baby River, and Sonya and Frank Gregorio–mothers and their children who are victims of state violence and harassment.
***
However, it must always be noted that the very thing that gives songs their power is the vitality of the struggles they strive to shed light on. Alice Guillermo's "Art and Society" stresses that art is never neutral and that it "derives its energies from the dynamism and conflicts of society….As it tackles social and political themes, it shows its affinities and sympathies with one or the other pole of the productive relations."
In the same essay, Guillermo also highlights gender and racial prejudices in the production and reception of art since the advent of patriarchal society and colonialism. While Spanish colonizers were exacerbating feudal relations in Philippine society, the image of the meek Maria Clara stood out, waiting for a lover to serenade her by her window. The tones and rhythms of such a musical gesture (the kundiman or harana, as we call it) still resonate today. I believe that as another case of counterviolence, many contemporary revolutionary songs adopt and appropriate this form of folk guitar playing and then charge it with critiques and exposés as a way of turning it against its initial function during the colonial period, which was to perpetuate gender roles and the subordination of women.
***
Awit ng Mendiola (Song of Mendiola) as interpreted by Mara Marasigan and Alyana Cabral at the forty-eighth anniversary of martial law. This song is a tribute to the student martyrs who demonstrated against the dictatorship of former president Ferdinand Marcos at the January 30, 1970 Battle of Mendiola. Words originally by Bienvenido Lumbera and music by Inang Laya and Lester Demetillo.
***
Just as old Spanish-inspired harana melodies still ring in our ears, feudal violence and land-related oppression is still rampant under Duterte. Within grassroots movements addressing the problem that seven out of ten farmers remain landless in the country, women agricultural workers, who earn nine percent than their male counterparts, are struggling to close the gender wage gap.
***
Babae sa Nayon (Woman in the Countryside) by Mara Marasigan
***
If violence is gendered, so must be the counterattacks. Voices by women for women must continue to be made and heard. The universality of music as a channel for awareness and empowerment must correspond to the universality of feminism and the aspirations of women's struggles.
***
I Ain't No Domestic Slave by Alyana Cabral
Cover image: Barangay Pesante Combo's performance at Katutubong Dangal, Katutubong Tapang: Installation of Cordillera Heroes Monument Replica at Bantayog ng mga Bayani, Manila. Photo by Ding Llaver.