LOOKING BACK — The Decolonial Aesthetics Exhibition at Duke University
The Decolonial Aesthetics Exhibition (May 4-June 5, 2011) at Duke University's Fredric Jameson Gallery and The Nasher Museum of Art, among other venues, curated installations by scholar-artists Guo-Juin Hong (Taiwan, Durham) and his collaborators from Taiwan, Sega Huang, Pei-Chyi Wan, and Ying-Shun Wang, as well as by Hong-An Truong (Durham, NYC). In addition, we invited the artist-scholar Viet Le (Los Angeles, Saigon), and, via video conference from Ho Chi Minh City, artist Dinh Q. Le and curator Zoe Butt, director of the contemporary art space San Art, for a dialogue with us at the companion workshop held on May 6. The Decolonial Aesthetics Exhibition provided an important opportunity to think together experimentally, in form and content, about our ongoing practices across disparate histories and spaces, and to engage with broader questions about continuities and discontinuities in contemporary local and global decolonial artistic movements in Asia and elsewhere.
With a new phase of the global rise of "Asia" unfolding around us, Asia is often misrecognized as a coherent spatial imaginary. Here we offer preliminary thoughts, based on our initial encounters, on the significance of the necessarily ongoing nature of the practices of decoloniality in the region broadly defined as "Asia." The artistic practices we engaged were scattered throughout what we heuristically call the "local South" (in solidarity with broader decolonial projects of the "global South"), peripherally situated within Asia, spanning Taiwan, Viet Nam, and Cambodia and their complexly intertwined diasporas.[i]
By deliberately focusing on regions marginalized within Asia, we highlight a perspective contrary to Western Orientalist myopia or to Japanese pan-Asianist propaganda, a perspective that shows that "Asia" is not one.[ii]
Such ahistorical, overarching imperialist projections of Asia in toto, both external and internal, historically obfuscated long-extant divisions within the region by nation, class, religion, sect, gender sexuality, ethnicity, and political affiliation. In fact, such persistent divisions, long embedded in the region, were further exacerbated in unprecedented scale with the intrusion of altogether new forms of imperial forces in the name of colonial/modernization, the "Cold War," and globalization. Impositions of such false dichotomies worked to make invisible the glaring fact that imperial power dynamics in the region were never about simple binary oppositions. In fact, they were always at the least triangulated with multiple powers contending with one another in different configurations over long contested and violent histories.[iii]
The need to decolonize and deorientalize "Asia" is thus a necessary and urgent task. The most recent ramification of empire by other means in the region came yet again in the name of "rapid economic development" (kodo sŏngchang, kōdo seichō; Đổi Mới; kuaisu chengzhang) through the ideology of modernity and modernization, which married the internal imperial ambitions of the nation-state as a "client state" in collusion with other external imperial powers. Together, these forces wreaked havoc through continuous wars in the region, resulting in devastations marked by divisions in territories, political/economic structures, and families, not to mention the traumatic psychic divisions which loom beneath the surface and cannot be accounted for in full.
The human, social, and environmental costs of such divisions in other words are countless and are yet to be reckoned with. In the face of and emerging out of such impossibly divided histories, the artistic endeavors curated at Duke brought together what has long been kept apart by internal and external forces of empires past and present. The ongoing struggles of visual artists to come together in dialogue further work to make visible what has long been made invisible through mighty imperial contests and their persistent legacies. Together, we question false dichotomies and limited identifications of personal and collective histories to think through complex intersections and interactions that become all too apparent through the work of a curatorial montage of art practices from disparate and distant histories, spaces and memoryscapes. Furthermore, our projects of decolonial aestheSis foreground, out to the public sphere, a sensibility (sensing, aesthesis) that has been suppressed by the persistence of imperial imageries and their consequent (de) formations of practices of sensing the world otherwise.
The works that confronted these issues through the Decolonial Aesthetics exhibition and workshop include the following:
"Decolonial Taiwan"–Guo-Juin Hong in collaboration with Sega Huang, Pei-Chyi Wan, and Ying-Shun Wang
Coloniality is movement. Spatially, the advance of coloniality comes through territorial invasion, on the one hand, and territorial inclusion, on the other. Temporally, the timeline of coloniality extends to the past by rewriting, if not outright erasing the history of the colonized as well as the future by incorporating it into a new imperialist timeline. In the case of Taiwan, both of those sets of forces take on a form of circularity, or more specifically, the form of circum-insularity. Decolonial Taiwan takes this understanding as its core mode of registering the temporal and spatial form of coloniality as well as a potential endeavor that may open up toward a decolonial practice.
"Decolonial Taiwan" is a multi-screen, multi-location installation. Footage from various historical junctures of Taiwan's history are brought into tension through an unexpected montage of scattered films. Southward to Taiwan is a wartime propaganda film made by the Japanese colonial regime in the wake of the Sino-Japanese War of 1937. The film dramatizes the colonial agenda as a southward march, from Japan to Taiwan, and as a projected pathway for further imperial expansion, to Southeast Asia and beyond. The trope of "moving forward" is emblematized by war machines (battleships and fighter planes) and modern transportation (automobiles and trains).

Brother Wang and Brother Liu Tour Taiwan was a commercial film made in 1959, showcasing the generic diversity characterizing the early decades of post-war cinema in Taiwan in the mode of the travelogue. The namesake heroes tour around the island of Taiwan, occasioning comedy and highlighting Taiwan's modernization under the Nationalist government. Here the spatial characteristic of Taiwan takes a firmly circular shape. What is again emphasized is the vessels of movement–trains and motor vehicles–and what is added is the locations of what this travel visits–landmarks of historical significance. Not only has the temporal trajectory has broken from the imperialist fiction of linear and plenary expansion, but the spatial mapping of the territorialization of that which is Taiwan has remained within the island.
Fast-forwarding half a century, Island Etude (2006) features another circum-insular journey, but this time on a bicycle, a vehicle of movement taken a significant step backward from the apparent modern. What differs even more emphatically from colonial propaganda or its earlier counterparts is in the terrain traversed, which is decidedly outside the urban.

"Decolonial Taiwan" brings together fragments from three distinct audiovisual archives across different historical periods and political contexts, and shows how they mimic, resonate and contend with one another in their shared circum-insular movements around Taiwan Island. The installation at Duke in 2011 featured one main location with three screens and a single screen at each of the other five locations on campus. Though those screens were synchronized to show continuous circular movements from one screen to the next, only a partial view was visible through each screen. The multiplicity of location suggests the prevalence of coloniality above and beyond any single location in the colony, whereas the juxtaposition of repeated images and sounds across temporal planes highlights the incomplete nature of any decolonial project which must still be at work.
"Resistance Can Be Quiet"–Hong-An Truong
My interest in the photographic and filmic image is vis-à-vis the history of the photographic and film camera, a vital tool used as part of the colonial enterprise during European colonial aggression. The development of mass-circulation photography went hand in hand with the use of the camera as a colonial technique. The photographic, and later, the filmic image, was used to map and to control, creating and perpetuating a positivist knowledge of both people and places. Photographic (and filmic) images of the French and American Wars in Viet Nam were part of the vast flow of information on which the colonial project depended. The camera, and with it the documentary aesthetic and the ethnographic imperative, were inextricably bound up with the colonial enterprise.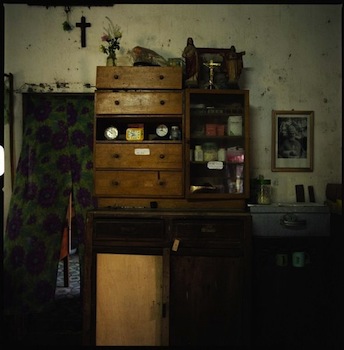 As a viewer, I'm constantly looking for my family. In the process of going through visual archives about Viet Nam, there's always the process of looking for family members and not seeing oneself there. I am interested in the use of technological images and their archives in the production of knowledge and the production of history. Early photography and films established formal and aesthetic conventions of the documentary and ethnographic image. The conceit of the camera is that it is an indexical device; formal conventions of the medium become naturalized, rendering invisible the ideological positions circumscribed within it. These conventions form a kind of hegemonic aestheTics, establishing a regime of the visible. Implicit with the use of the camera–a result of the camera's relationship to colonialism and the modernist project–is a struggle over the image. What kinds of images are permissible to show? What kinds of images are permissible to see and who is permitted to see them? An interrogation of subjectivity and formal strategies born of the violence of colonialism–exploding and miming back what is encoding the archive, probing the narratives, told through visual culture, about Viet Nam, and histories of Asia broadly–and delinking from colonial imagery while engendering non-imperial subject(ivities) is a decolonial project.
The Portuguese first began converting the Vietnamese in the 1500s, but by the 1840s the French had converted more than half a million Vietnamese to Catholicism, and by the early 1940s, more than 1.5 million. When the French were defeated at Dien Bien Phu in 1954, Viet Nam was partitioned between North and South. Thousands of Vietnamese Catholics in the north fled south to avoid living under Communist rule. When I began research for the project I started doing interviews with Catholic nuns and priests in the north, around Hanoi, in the province of Son Tay – interviews with Catholics who had stayed in the north after the defeat of the French in 1954.
Catholics in Northern Viet Nam troubled a typical and easily drawn division, the division made between Catholics as allies of the foreign colonial oppressor, and Buddhists as allies of the local liberators. In fact, Catholic loyalty was never quite as monolithic as one might have expected. In 1945, Catholics organized several massive demonstrations throughout the North in support of the Ho Chi Minh government.
This is precisely the uneasy rupture of the complete self organized as a named identity in response to structuring violence. Northern Catholics complicate the question of postcolonial subjectivity, not simply because of their relationship to Communism, but because of their relationship to their belief and faith in Catholicism. Unlike the vestiges of colonialism left on the Vietnamese social landscape in the form of architecture, cuisine, and street names, the mark of Catholicism penetrated the body, a transcendent, mystical stain made corporeal. While Catholicism is an embodied representation of the powerful process of colonization, and irreversible violence of modernism, the historical trace asks: What happens when the Other becomes a specter from within? What happens in the internalization process of colonization and how does one speak about this process of becoming an Other? At what point does colonization become de-objectifying? These are questions that lie at the center of a decolonial aestheSis.
A conversation with curators, artists and scholars from Viet Nam (May 6, 2011)
The workshop brought together curator Zoe Butt, artist Dinh Q. Le, and scholar and artist Viet Le to discuss the potentiality of the concept of decolonial aestheSis within Vietnamese, Cambodian, and Chinese art practices. All three panelists discussed the work of artists in the context of accelerated development and the growing international art market.
Dinh Q. Le is an artist who was born in Viet Nam but was raised in Los Angeles after his family emigrated to the U.S. when he was ten. He studied art in the U.S., but returned to Viet Nam after graduate school, where he has been central to the growing contemporary art community in Saigon. He co-founded the most active independent contemporary art space in Saigon, Sàn Art. During the panel, he discussed his own work, which examines both real and imagined memories of the American War in Viet Nam.
Zoe Butt is a critic and curator based in Ho Chi Minh City. She is currently the director and curator of Sàn Art, an independent artist-run gallery space and reading room. She worked for several years as the Director of International Programs at Long March Project, an arts organization in Beijing, China. For the panel discussion, she discussed several Vietnamese and Chinese artists. She talked at length about Xu Zhen, whose controversial project "The Starving of Sudan," from 2008, included a durational performance in the gallery by a toddler. The work generated heated criticism around the ethics of display as well as issues of human exploitation.
Viet Le is an artist and scholar who has spent time living in Cambodia, Viet Nam, and Taiwan. His work is focused on issues of trauma, popular culture, and contemporary visual cultures across Asia and the U.S. He is currently an Assistant Professor in the Visual and Critical Studies Department at the California College of the Arts in San Francisco. His talk posed the question: Is a decolonial aesthetics possible in the context of both Vietnamese and Khmer histories and modernities? He outlined several threads of colonialisms that connected both countries, and discussed the specific economy of cultural goods – including interdependent networks between artists, art institutions, academics, and collectors.
LOOKING FORWARD
Our curatorial collaboration at Duke University began serendipitously among local scholars and artists with shared but varied degrees of interests and affiliations, professional, personal, political, spanning the U.S. to "Asia" broadly defined. The curatorial team included Hong-An Truong, a diasporic artist/scholar working across Viet Nam and the U.S.; Nayoung Aimee Kwon, a scholar of postcoloniality in East Asia and transpacific Asian studies which seeks to link delinked histories of  Asia and America across the pacific; and Guo-Juin Hong, a scholar of visual cultures, specializing in Taiwan and other Chinese-language cinemas.
A bit weary that we were being commissioned to be collective "native informants" for "Asia," we soon found productive ways to disengage from assumptions of naturalized affiliations to re-engage nodes of more productive common terrains in thinking through our varied practices and politics from disparate disciplines and regions. Working together on the exhibition and the workshop left us with important reminders of what should have been obvious but too long obfuscated and therefore bears repeating: "Asia" most certainly is not one. However, the process also taught us an important new lesson: a curatorial montage of varied histories can forge a productive visibility and engender new narratives of connections beyond any inherited or imagined natural or geographical affiliations of cultural proximity. Through this project, we found that there is indeed a shared history of contingency born of an onslaught of violent imperialisms that have returned to far-flung regions that we have each inhabited albeit in different degrees through uncanny repetitions.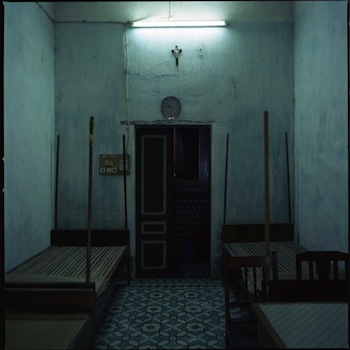 We encounter such repetitions merely as ghostly déjà-vu when we travel across Asia's contentious borders because we have never had the opportunity to think or articulate together common struggles across violent partitions erected by triply overdetermined forces of colonialism, cold war, and globalization that make strange but stubborn bedfellows in their mutual disavowal of their common imperial nexus. Our decolonial project must necessarily continue because the nature and state of decoloniality are still deeply contested and incomplete. To this end, we envision a future collaboration which will feature the same artists from Asia's "local South" as well as other invited artists and scholars from the region. The ongoing project will interrogate both possibilities and impossibilities of thinking together about "Asia" as a "regional collective" beyond hegemonic institutions and naturalized affiliations through a decolonial lens.
A project of this scale and significance by its nature must be collaborative and ongoing. "Decolonial Asia" may not be a question to be posed or answered by "what" or "where," but an ongoing practice, ephemeral, in progress, in process, yet powerfully interlinked through contingencies and proximities. The practice of linking and delinking multiple dialogues and practices across disciplines in order to rethink and go beyond inherited partitions of colonial violence past and present is to be continued.