Introduction by Walter Mignolo
Tanja Ostojić? And what is decolonially aestheSis in her work? Simply, Tanja's work unveils the logic of coloniality through the intersectionality of the European Union's politics of migration, gender, and sexuality.
When Rolando and I invited Tanja to contribute to this issue of Social Text: Periscope, she wanted to support the project by contributing her work but at the same time was concerned that she does not use the "decolonial aesthetics" vocabulary and arguments. This conversation was taking place after several decolonial aesthetics events in which Tanja participated: Bogota 2010, Duke 2011, Kassel 2012. At that time, "decolonial aesthetics" was used instead of "decolonial aestheSis.'
In Tanja's storytelling we can read the dense history behind the present situation of migrants from the Balkans and other sites in the European Union. But there is more than the coloniality of internal migrations from the former Eastern Europe to the former Western Europe, namely, there is the question of gender and sexuality that gets entangled with migration. One of the manifestations of the coloniality of gender and sexuality is the imaginary of "dating services," addressed in Tanja's project, Looking for a Husband with EU Passport (2000-2005). When you google "dating services," you find that all the women portrayed do their best to show themselves in attractive and sensual garb, and, when the service allows, in soft-erotic visuality, always hiding their real intention, which is to marry a man with a European passport. In this project, Tanja unveiled the rhetoric of modernity and the hidden logic of coloniality by bringing the game fully out into the open, starting with her naked photo that dismantles all the pretenses of and in the dating-service business.
In After Courbet (L'origine du monde) (2004), she updates an already dissenting male voice, in France, into La naissance du monde, which, in this case, is the European Union. The birth of the European Union is seeing the light, wrapped in its own panties-flag, through the legs of an immigrant. In Misplaced Women? (2009-present), Tanja continues her relentless work on behalf of migrants cultural and legal citizenship; her performance at the airport clearly brings migration and gender/sexuality to the fore. However, the storytelling performed on an airport floor is also a statement that unveils the connection between migration and terrorism. It is believed that "terrorists" are not nationals, but always someone coming from outside. By unpacking the contents of her suitcases, piece by piece, Tanja is also claiming that migrants are not terrorists, but just human beings looking for a place in a society that does not want them to find their place.
Crossing Borders / Development of Diverse Artistic Strategies
Tanja Ostojić
For my art practice, I have consciously decided to abandon the production of "one-off" artworks in favor of developing a series of strategic projects that span a period of several years. This position gives me the opportunity to engage in a much more consistent and deeper analysis and development of the issues of concern in my work.
Regarding this stance, I came to realize that, in order to attain relevant content, one has to keep actively trying to overcome the given limits imposed by the rules of production and exhibition format within the art system. The exhibition space, transformed naturally and with a particular intention, is just one space where just one part of the target audience is to be found. Furthermore, because the art field is fertile ground for the exploration of different methodologies, in recent years one has been able to observe visual and performing arts, philosophy, and political activism informing each other and adapting concepts —especially with regard to the use of public media and/or guerrilla strategies. The whole concept of "tactical media" is rooted in a mutual learning process involving different disciplines.
Still, the sector of the visual and performing arts, even beyond the white cube or black box, is quite limited when it comes to effectiveness through action. If not for a strain of influential theory in the arts and philosophy that enduringly pushes the syntax towards issues of social concern, these strategies might not result in any achievement at all.
Assuming a Migrant Woman's Identity
First, with Illegal Border Crossing (2000), I directly familiarized myself with border-crossing strategies that migrants have been using for decades. I trespassed across the Slovenian-Austrian border, which at that time was the border of the European Union, and where eight or nine "illegalized beings" were captured per day. As a consequence, I went on exploring the topic in Waiting for a Visa (August 2000). The title refers to a queuing action in front of the Austrian consulate in Belgrade with "no result": from 6:00 a.m. until noon, I lined up in the regular queue with hundreds of people, with about twenty pages of documents and guarantee letters, in order to apply for a visa. At noon, the embassy closed, so I shared the destiny of failure with more than a hundred others who were "too late."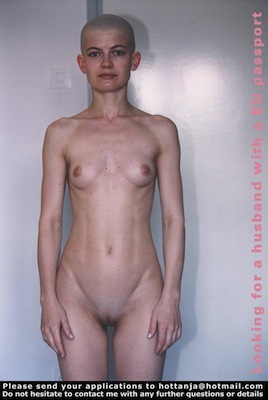 The "ad" from Looking for a Husband with EU Passport, 2000-2005

Participatory web project / combined media installation

Copyright/courtesy: Tanja Ostojić
In August 2000, I started the project Looking for a Husband with EU Passport. After publishing an ad with this title, I exchanged more than 500 letters with numerous applicants from around the world. In 2001, after a correspondence of six months with a German man, Klemens G., I arranged our first meeting as a public performance in a field in front of the Museum of Contemporary Art in Belgrade. One month later, we were officially married in New Belgrade. With the international marriage certificate and other required documents, I applied for a visa. After two months, I got a family unification visa, limited to a single entry for a three-month stay in Germany, so I moved to Düsseldorf, where, on the basis of my next visa, I lived officially for three and a half years.
In spring of 2005, my three-year visa expired, and instead of granting me a permanent residence permit, the authorities only granted me a two-year visa. After that, Klemens G. and I got divorced, and on the occasion of the opening of my Integration Project Office installation at Project Room, Gallery 35 in Berlin (1 July 2005), I organized Divorce Party.
In order to claim my own rights, which I had been deprived of under current EU law, I explicitly applied the strategy of tricking the law (as earlier with Illegal Border Crossing) to gain the right to move freely, and live and work in diverse locations.
Migrants are constantly abstracted by the media and discriminatory laws, and often treated as a single alienated group. The aspect of personal and direct speech, as opposed to abstract speech, is an important element throughout my work. I showed myself in that position, with my own story, as well as later collecting the individual stories of others whom I met, so that the audience would get a chance to understand the variety and depth of the matter, and identify with me, with them, with us.[i]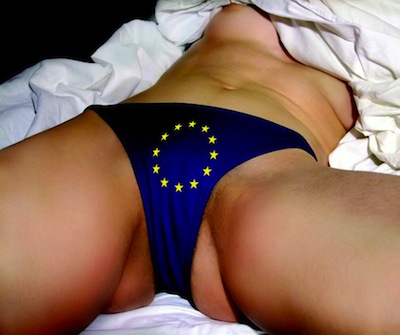 Untitled / After Courbet (L 'origine du monde), 2004

Copyright/courtesy: Ostojić/Rych
Media Scandal
After Courbet was supposed to be presented in the EuroPart exhibition in public spaces in Vienna, from December 2005 to January 2006, on several rotating billboards. The work was removed after two days as a result of an enormous media scandal provoked by yellow press, at a time when Austria was about to take over the presidency of the EU. Over one hundred articles, over a thousand readers' comments, and a number of caricatures witnessed the work in very interesting and complex ways. The poster, 3.5 x 4 meters in size, was re-mounted on the façade of the exhibition venue Forum Stadtpark in Graz from January to March, 2006.
In certain periods in history, nudity existed in the public eye, but taken for its symbolic value in society it frequently served as a carrier for other messages. Besides the composition and the reference to the title (L´origine du monde – The Origin of the World, oil on canvas, 1866, 46 x 55 cm, by Gustav Courbet) beyond the image, my reference to Courbet directly addressed his position as an artist who was concerned with the class struggle during the time of the Paris Commune and who believed in the emancipatory role of art in society. His artworks were banned from shows and he was even arrested, primarily due to his political engagement. The painting L´origine du monde remained hidden for more than 120 years in private collections, but has been on display at the Musée d'Orsay in Paris since the 1980s.
In retrospect, I believe this interpretation of mine would not have provoked a mass media scandal if the blue underwear had not featured the EU flag on it at such a moment of Austrian political reality. In the tradition of my earlier works, like the Crossing Borders series and the Integration Project (2000-2005), I continued my critical view of the politics of exclusion and the issues of biopolitics in the fortress EU. The body of the woman in the picture–my own–is the body of someone who did not belong to the EU territory, who speaks from the perspective of a migrant woman, and who has been discriminated against because she is not a citizen of this elitist political and economic space.
As European Union states sharpen control over noncitizens, the immigration police, for instance, continues the longtime practice of "checking-the-warmth-of-the-bedsheets" in intermarriages between EU- and non-EU partners.
The fact that my artworks were removed from the rotating billboards in Vienna caused much turmoil in art circles, in Austria in particular. Without a doubt, it is a form of censorship that represents a danger for the future of the arts in Austria–especially as it concerns art with political content, critical art, women artists and artists from outside the EU, public funding in the arts, and removing or covering serious political content from the public eye. The work became even more present in digital media and publications, which are a priori public spaces, and apparently some much more constructive and intellectual debates took place, beyond the mainstream reaction. Which brings us to the absurdity and hypocrisy of the artwork's removal for moralistic reasons: the act only served as a manifestation of official political executive power, one which failed in its purpose since it actually multiplied the content, taking it to the most remote corners of society.
With two other images that were on the same rotating billboards–Integration Impossible, in which, in the first, I wear a camouflage burqa on the street in Manchester, and in the second, a red, so-called terrorist mask–I wanted to give visibility to minorities in the EU while addressing the picture of abstraction and demonization of minorities created by the media, as well as stereotypes in the "war on terror." Integration Impossible was a performance work created for the 2005 feminist festival [prologue] new feminism / new Europe in Manchester,[ii] with the first part performed on the street and the second part inside the Cornerhouse theatre space, just a few days after an innocent Brazilian man was shot to death by the British police in London as a disturbing reality of the "war on terror." This performance, where my interpretation of L'origine du monde was also shown, provoked an interesting and intense discussion there.
As for the posters, there was no intention whatsoever to work on a topic like "an advertisement for the EU," but rather to invite artists to work on the topic of changing European geopolitics, which should be open for critical positions, since they reflect individual standpoints.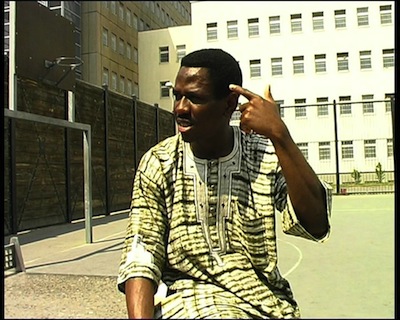 Tanja Ostojić / David Rych

video-documentary / video installation, Berlin, DVcam, 14 min

with subtitles in Bosnian, English, Greek, German, Romanian, Spanish

Copyright/courtesy: Ostojić/Rych
Sans Papiers
One of the most problematic issues in the EU is the "fortress of Europe," enforced by the body of restrictive asylum laws. EU state governments do everything to grant as little asylum as possible. Refugees are deported and removed, and pushed over EU borders to fend for themselves.
The video Sans Papiers portrays "illegalized" people in one of the major deportation jails in Germany, Berlin-Köpenick. Interviews with detainees give testimony to the differences between those termed "sans papiers" and shed light on the conditions and treatment, while they are caught in bureaucratic circles of control structures.
A mere five percent of imprisoned people receive "political refugee" status. Some forty-five percent remain in Germany in limbo, without any rights. The rest are deported–continually. Germany alone expels around 30,000 people annually, according to the Initiative against Deportation in Berlin and research by students at the University of Leipzig.[iii]
Most rejected asylum-seekers cannot be expelled due to civil wars raging in their home countries, or complicated cases of "nonconfirmed" identity, but are still kept in prison for one to six months with a maximum of eighteen months, all the while being billed for their stay–an average of sixty-five Euros per day.[iv] Upon release, the absolute majority are without resources and without work permits, targets for more stringent police tactics, and forced into the black labor market to pay off their debts. Yes, the German authorities tolerate them for a while, but like spring cleaning of its own prisons, out of fear and anger, the occasion comes for a seasonal sweep, and being illegalized, asylum-seekers find themselves imprisoned again.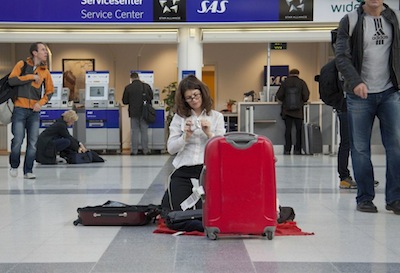 Misplaced Women?, 2009-2012

Performed by Tanja Ostojić at Bergen International Airport, Norway, 2011

Copyright/courtesy: Tanja Ostojić
Misplaced Women?

Misplaced Women? (2009-2012) is an ongoing participatory performance and delegated performance series in which the artist herself and female volunteers carry packed suitcases in public spaces, repeatedly pausing to pack and unpack as they move about the city.
In this project we enact an everyday life activity that signifies a displacement as common to transients, migrants, and disaster refugees as it is to the itinerant artist traveling the world to earn her living. These street performances continue themes of migration, desired mobility, and relations of power and vulnerability in regards to the mobile female body, present in much of my previous work.
There is a permanent open call to perform Misplaced Women? and to share experiences on the project's website. Suggested locations for performances include: women's houses (in front or inside); refugee camps for illegalized people; shopping malls/market places; and ports, airports, train stations, and subways (inside and outside, above and below ground). I would like to hear from anyone performing this delegated piece: participants are invited to post their contributions in the form of images, notes, texts, and videos to the blog: http://misplacedwomen.wordpress.com.
On Tuesday, November 8, 2011, at 1:30 p.m., I landed safely in Bergen's mist and fog, after a connecting flight from Berlin. The purpose of my visit was to take part in "Migration, Globalization and New Social Formations," a conference organized by the International Migration and Ethnic Relations Research Unit of the University of Bergen. At Bergen International Airport's arrivals and departures terminal, I performed my Misplaced Women?. Over approximately thirty minutes, I took out the entire contents of my two suitcases, my handbag, as well as my cosmetics and make-up bags. I took out each and every single item, one by one, turning them inside out, and placing them all on the floor of the terminal on a red SAS blanket that I had borrowed from the airplane just a few minutes earlier.
The airport's security officer let me finish my performance, after asking if I needed help. "Well," I said "NO." He then asked, "So, what are you doing here?" I responded, "I'm looking for something that I need for my performance at the university on Thursday. Hope I did not forget it." That was my answer–while taking out every single item and turning them inside out, including all my tights, socks, underwear, pullovers . . .
As I proposed, a series of five delegated performances were organized around the city. "Misplaced Women? Marking the City" has been produced by Stiftelsen 3,14 and performed by Pavana Reid, Mahlet Ogbe Habte, Gillian Carson, Kwestan Jamal Bawan, and Karen Kipphoff. The performance took place on November 2, 2011, in five different locations in Bergen that are particularly significant for migrants in the city: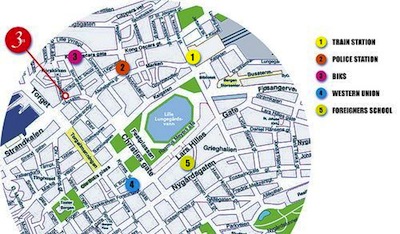 Misplaced Women? Marking the City, 2011

Series of delegated performances

Performed by Pavana Reid, Mahlet Ogbe Habte, Gillian Carson, Kwestan Jamal Bawan, and Karen Kipphoff, in five different locations in Bergen
1. main train station
2. police station
3. BIKS, Bergen International Art Center
4. Western Union Bank
5. Language School for Foreigners
---