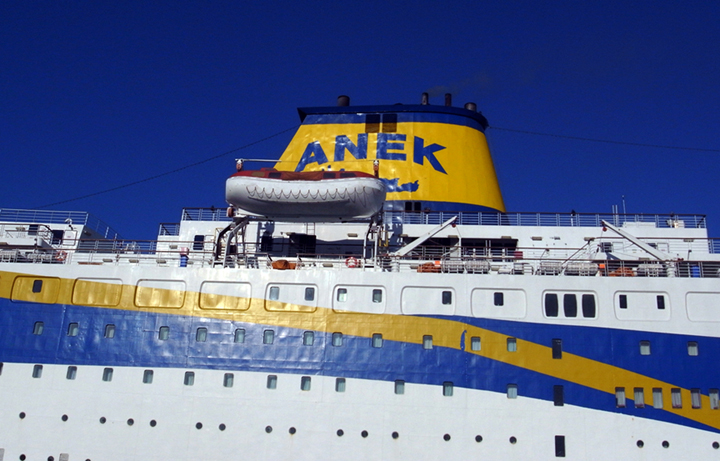 Detail of massive ferry, while still in Piraeus port
All but two of the dozens of flat-screen TVs on the many upper decks of the giant ferry E. Venizelos (now en route from Piraeus to Chania) were tuned to the faceoff of the Eurocup football match between Greece and Germany.  The three of us, including Nikos, had taken refuge on Deck 8 in seats several yards away from those last two hold-out TVs, thinking ourselves remote if not safe from a few hours of nationalist uproar.  Nikos said, with a smile, that it might be better for the Greeks if the Greek team lost–as was expected– so long as it wasn't totally thrashed. Either way we were pleased to be insulated from the spectacle about to commence–but no, we were mistaken: a ferry employee in nautical uniform appeared as if on cue to change the channel on both TVs.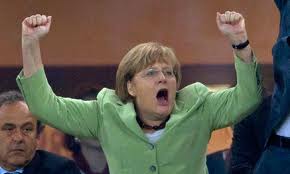 Regrettably, the TV-enhanced color of the football fan's jacket is lost here.
Seconds later, the TV camera's attention switched from the digitally-enhanced natural green of the football pitch to alight on the irradiated vomit-green of Angela Merkel's jacket in the immense stadium in Kiev. The impresario of austerity had traveled all that way to cheer on still another dimension of humiliation to be sternly administered the Greeks by an ace squad of her loyal subjects. Since football is a game with precise rules how could the supposedly rule-flouting Greeks ever expect to triumph?
Nikos and I climbed up to the open-air pool deck. The pool was empty, a net thrown over it, to dissuade the foolhardy, the inattentive, and the suicidal. The only brand of beer available at the bar was Mythos. An inconsequential detail that in my present state of exhaustion I found dimly resonant–a gulp of mythic spirit(s) while afloat on the Aegean–or something. A group of Athenian anti-authoritarians soon turned up. They stayed up all night. Drinking and talking.
Dawn arrival at the port of Chania. Bleary-eyed, we stumble out of the maw of the E. Venizelos, dragging our bags. It's already warm, very warm. We'd slept through our chance to see the long series of NATO installations that dot the hills along the way into the channel. Though broke, tiny Greece boasts Europe's largest defense budget (per GDP). Having gutted wages, the government is busily taxing everything in sight and aims to privatize every resource with the exception of public outrage.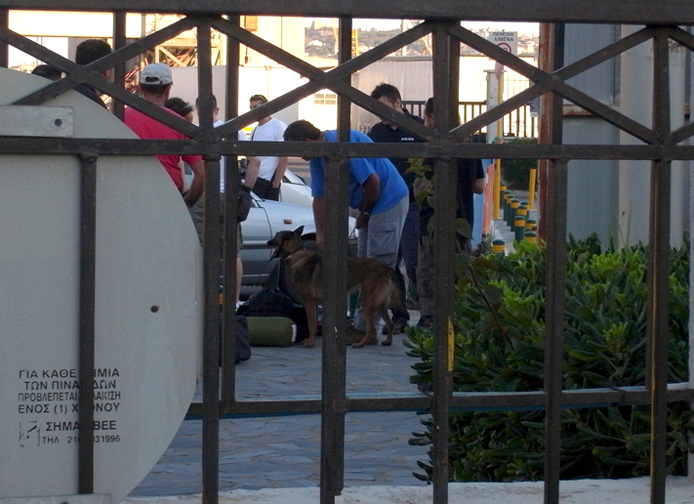 Plainclothes cops, with a German-bred dog
However, there's still some spare change left for the cops in Chania to bring a drug-sniffing dog to the dock to greet the anarchists, anti-authoritarians and autonomists here to celebrate the eighth anniversary of Rosa Nera, a squatted social center regarded with a considerable reverence by many in Athens and Thessaloniki. The consensus is that this canine cop theater amounts to a warning: We know you're here, we've got eyes on you, the cops are saying. But the German shepherd, as a well-trained fragrance connoisseur, could care less about cops having eyes on anarchists. His discriminating nostrils are excited by the baggage of a hiker. The dog is so proud of himself that one cop has to restrain him from ripping into the bag that another cop is avidly searching, garment by garment. We miss the denouement: everybody piles into one of the two cars awaiting us and we are driven off to the extraordinarily picturesque old port.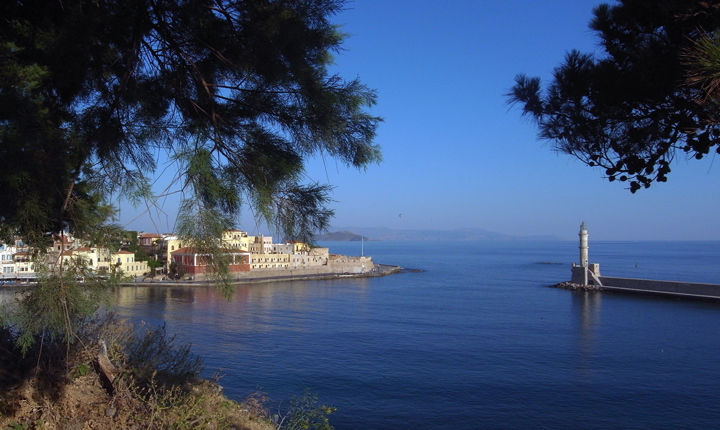 The old port &  Venetian lighthouse, from Rosa Nera square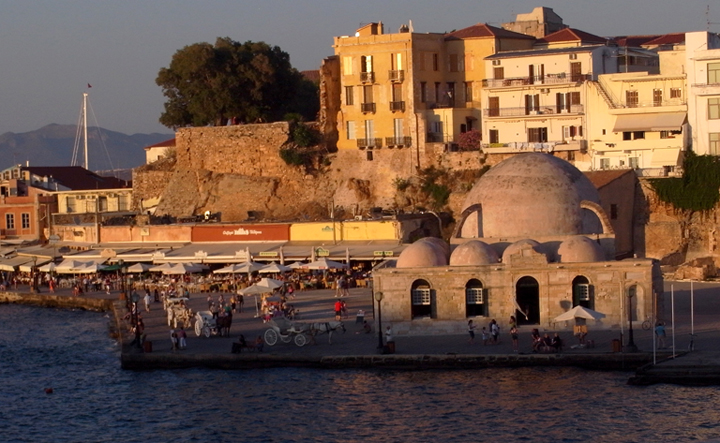 Old port, the tree (upper left) shades part of Rosa Nera's square
Rosa Nera (Black Rose) overlooks a restored Venetian lighthouse and the remains of a fortress breached by the Turks in the fifteenth century and by the Nazis in 1941. Or to be more (though not completely) accurate about the port's history: Minoan then Greek then Roman then Byzantine then Arab then Byzantine then Venetian then Genoan then Venetian then Ottoman then briefly Cretan then Greek then Nazi then Greek. Even before parking in the private square we are told about fascist attacks on immigrants a few days earlier and an 88-day miners' strike still going in nearby Heraklion. Two of the attacked immigrants, both Algerians, are among those staying at Rosa Nera. One sports a cast on his right forearm. Such an injury could have resulted from an accident playing football–except it didn't.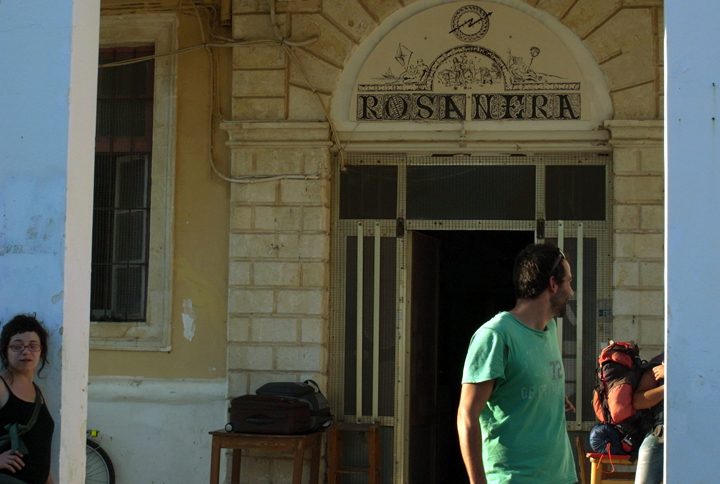 Arrival at Rosa Nera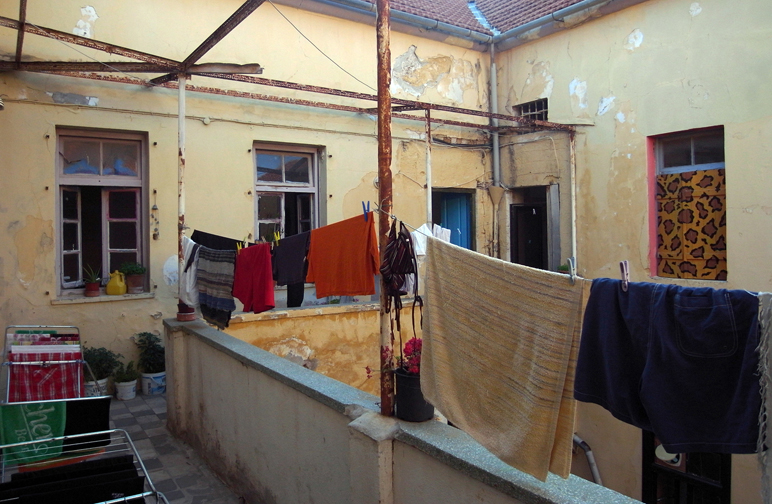 Laundry hung in the second-floor of courtyard at Rosa Nera
Two nights later, following a discussion about the Heraklion strike, in which two of the striking miners participate, we screen our video, Rock the Cradle, in the square. (The video focuses, for the most part, on the aftermath of the Dec '08/Jan 09 insurrection in Greece.)
During the screening of Rock the Cradle
Afterwards an anniversary feast for 500 guests is spread in the square (500 real plates!) while local musicians play and sing, sing and play. We sit at one of the long tables, drinking local wine and eating lamb, risotto, and salad from plastic–rather than china–plates. How did that happen?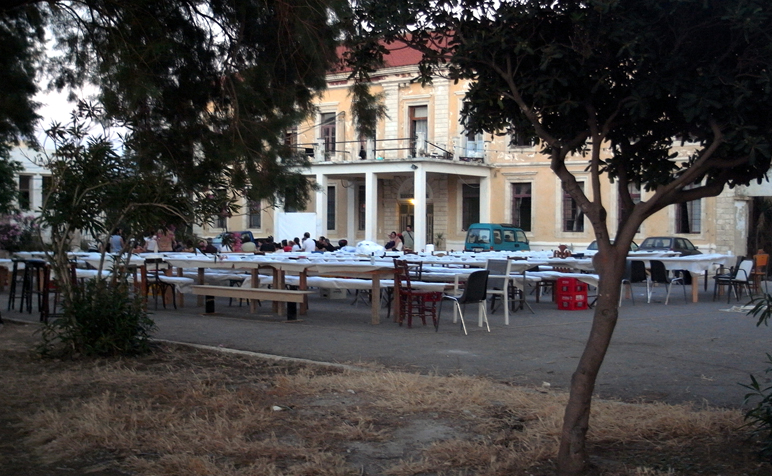 A few hours earlier, the long tables lined up and set, for the celebration
The only Americans in attendance, we talk for some time to an Athenian woman in her early thirties, who describes being among the half-million protesting the imposition of anti-austerity measures for five long hours in front of Parliament ("five hours, 500,000 people," she repeats, more than once) a few months earlier–and then Parliament went right ahead and voted against the people. She speaks as if she still can't believe what happened. "And then when the police attacked it was the anarchists that defended us," she says.
She's been in Crete for three months now, in quiet retreat while mulling over what to do next. She'd quit her academic job. When Sherry says what an inspiration Greek resistance has been–and still is–to so many in the U.S. it isn't clear that she believes or perhaps even quite hears what Sherry is getting at. In the present context–in the midst of the lively communal celebration of eight years of unbending resistance going on around us–her somewhat unyielding expression of a doubt which surely everyone feels at times is disconcerting. But I wonder if there is anything more inevitable–given enough time, a stumble, a route or a rupture– than such occasional rumbles of doubt. Late the next morning the musicians are still playing, still singing, with only slightly less energy, even though their audience has dwindled to a handful of diehards and sleepy-eyed insomniacs. The persistent tradition of folk melody, songs of work and desire that everybody knows and shares, among its many other benefits can be an effective salve for the lingering psychic scrapes doubt exacts.
A few days later, when we're back in Thessaloniki, 34 anarchists, whose cell phones have been tapped for months, are arrested on felony charges of belonging to a criminal organization. In the past few months, fascists have attacked immigrants dozens, perhaps hundreds, of times. No arrests. Syriza had promised, if it won the election, to purge the police force of its fascist elements. It is well-known that the police are heavily involved (perhaps to the tune of 50%) in Golden Dawn, the fascist party that garnered 7% of the official vote count.
A few months ago, New York's Mayor Bloomberg boasted: "I have my own private army," a bloated statement reminiscent to some of the early stages of fascist consolidation of power. But of course it's silly to imagine that this billionaire mayor, who had the law limiting the election of a mayor to two terms changed when he decided that he wanted to be Mayor-General for the third time, whose private army purged Zuccotti Park of the Occupy Movement, when, tiring of its excess, he so ordered, should be mentioned in the same breath with any of the tinpot fascists who rose to power, way back in the second and third decades of the last century. And maybe that's correct: people here in Greece are beginning to speak of a molecular fascism, built from the ground up, which is not indebted for its increasing influence to the skillful demagoguery of a charismatic leader. And no one in their right mind ever accused Bloomberg of being charismatic.