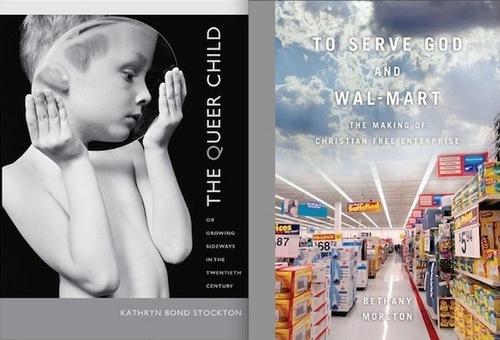 November 20, 2009 Friday
4 to 6 PM
Department of Social and Cultural Analysis, NYU
20 Cooper Square, 4th Floor
Panel members:

Event and panel host: Lisa Duggan (SCA, NYU)
The Queer Child: Or Growing Sideways in the 20th Century (Series Q, Duke University Press)
Kathryn Bond Stockton
With comment by:  Jose Muñoz (Performance Studies, NYU)
Children are thoroughly, shockingly queer, as Kathryn Bond Stockton explains in The Queer Child, where she examines children's strangeness, even some children's subliminal "gayness," in the twentieth century. Estranging, broadening, darkening forms of children emerge as this book illuminates the child queered by innocence, the child queered by color, the child queered by Freud, the child queered by money, and the grown homosexual metaphorically seen as a child (or as an animal), alongside the gay child. What might the notion of a "gay" child do to conceptions of the child? How might it outline the pain, closets, emotional labors, sexual motives, and sideways movements that attend all children, however we deny it?
Kathryn Bond Stockton is Professor of English and Director of Gender Studies at the University of Utah. She is the author of Beautiful Bottom, Beautiful Shame: Where "Black" Meets "Queer," also published by Duke University Press, and God between Their Lips: Desire between Women in Irigaray, Brontë, and Eliot.
To Serve God and Walmart: The Making of Christian Free Enterprise (Harvard University Press)
Bethany Moreton
With comment by:  Nikhil Singh (SCA/History, NYU)
The world's largest corporation has grown to prominence in America's Sun Belt-the relatively recent seat of American radical agrarian populism-and amid a feverish antagonism to corporate monopoly. Moreton unearths the roots of the seeming anomaly of corporate populism, in a timely and penetrating analysis that situates the rise of Wal-Mart in a postwar confluence of forces, from federal redistribution of capital favoring the rural South and West to the family values symbolized by Sam Walton's largely white, rural, female workforce (the basis of a new economic and ideological niche), the New Christian Right's powerful probusiness and countercultural movement of the 1970s and '80s and its harnessing of electoral power. Giving Max Weber's Protestant ethic something of a late-20th-century update, Moreton shows how this confluence wedded Christianity to the free market. Moreton's erudition and clear prose elucidate much in the area of recent labor and political history, while capturing the centrality of movement cultures in the evolving face of American populism. (Publishers Weekly)
Bethany Moreton is Assistant Professor of History and Women's Studies at the University of Georgia.
Moderator: Michael Cobb, Prof. of English, University of Toronto
For more information, click here

Special thanks to our co-sponsors:

Social and Cultural Analysis, NYU: American Studies; and Gender and Sexuality Studies
History Department, NYU
Performance Studies, NYU
Center for the Study of Gender and Sexuality, NYU