American Studies Association President-Elect and NYU Professor of Social and Cultural Analysis, Lisa Duggan offers background on the "virtual vitriol" that surrounded a recent NYU graduate student conference, "Circuits of Influence: U.S., Israel, Palestine."
Her post appears here in anticipation of a forthcoming Periscope dossier on the conference, BDS, and the ASA boycott.
…
On February 23, the right wing Zionist blog Elder of Ziyon leveled accusations tantamount to an "exposé" of our NYU American Studies conference scheduled for March 1: "ASA's President Elect Hosting Secret Anti-Israel Conference. "
This post's allegations, that the event would feature "obscene " Israel bashers living in an "echo chamber of their own hate," quickly rocketed around Twitter, generating more posts and an avalanche of hate mail. Extending the expressions of outrage over the American Studies Association's support for the academic boycott of Israel (well-known throughout the Zionist blogosphere), this post focused its "exposé" on the supposed "secret" conspiracy unveiled in the post. Letters sent to NYU President John Sexton denounced the limited range of views represented, pronounced the supposed secrecy shameful, and demanded that NYU cancel the conference and fire me (the named ASA president elect).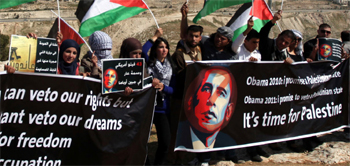 Circuits of Influence: U.S., Israel, Palestine was this year's theme for an annual graduate student-organized NYU American Studies program conference. The students wanted to explore the issues surrounding the ASA's December 2013 boycott vote. They created panels to query the history and effectiveness of boycotts, to consider new directions in the field of American Studies that led to support for the boycott, and to assess the geopolitical context of U.S./Middle Eastern relations. They set up luncheon workshops on the politics of boycott, led by representatives from Jewish Voice for Peace, Students for Justice in Palestine and Adalah-NY.
Aside from the controversial topic, there was nothing unusual about the conference. Our annual conferences are small events bringing together scholars and students for a conversation on a topic of current interest in the field. They are not staged as debates. There is no gesture toward "balance" of viewpoint. They are not open to the public. As usual, we created a flyer and distributed it to limited lists of academics, graduate students, and political organizations involved with the ASA on this year's issue. Due to limited space at the conference site, we created a pre-registration system to control the number attending. Because of continuing hate mail and threats we wanted to limit publicity. As advisors to the students, Andrew Ross (Director of the NYU American Studies Program) and I invited speakers and announced the event to colleagues. I posted the conference flyer to the CUNY Revolutionizing American Studies faculty seminar page on Facebook, asking the professors and student members to share it only with colleagues and students.
The Elder of Ziyon, well known for inflammatory posts, interpreted this ordinary limited registration academic conference held in a small space as a sinister conspiracy, and our Event Brite registration page overflowed with requests from Zionist bloggers and pranksters like I.A. Tollah. There were many threats to infiltrate and disrupt the event, so we enlisted extra security. This effort to build on recent right wing Zionist successes at blacklisting pro-BDS speakers, including pressuring Judith Butler to withdraw from a lecture on Kafka at the Jewish Museum, fell flat and fizzled.  There was no migration to the mainstream and tabloid press, there was no massing of protesters at the event site. The conference proceeded smoothly. We proclaimed it a success.
Why did this effort to trash our conference fail?
Outraged protesters, caught up in a fundamental contradiction, argued simultaneously that: (a) BDS supporters should not be tolerated at NYU sponsored events, and (b) our conference violated free speech and academic freedom by not including a full range of views on Israel/ Palestine. Bloggers, letter writers, and hate mailers intent on shaming NYU American Studies for not being fully open to all views at every campus event, just blanked out on the implications of that argument for campus Hillels, or for pro Israel academic programming. They didn't register that they couldn't ban speakers and call for openness too without losing credibility. But an opponent of the boycott, NYU's Sexton helpfully pointed out that few academic programs are "balanced" and many are closed to the public.
A flurry of postings and tweets have popped up since the conference, recirculating the outrage over the "secret" conference. So far these too have failed to generate more than noise. Though the noise is unpleasant!
…
For a sampling of hate mail sent to ASA members see: bdsloveletters.com.