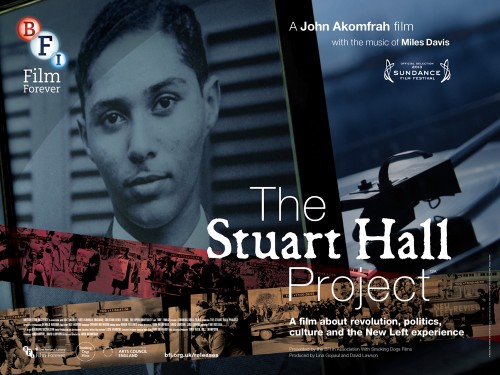 THE COLLOQUIUM FOR UNPOPULAR CULTURE presents:
THE SOUND OF WHAT CANNOT BE:
An Evening Celebrating the Life and Work of Stuart Hall

SCREENING: The Stuart Hall Project (dir. John Akomfrah, 2013) + reflections and reminiscences by prominent New York intellectuals including Brent Edwards, Ruthie Wilson Gilmore, Sean Jacobs, Anna McCarthy, Nicholas Mirzoeff, Tavia Nyong'o, Andrew Ross 
WHERE: Room 101, 3-5 Washington Place [corner of Mercer and Washington Place]
WHEN: Monday 24 February 2014, 6:30pm
"I am not a liberal Englishman like you. In the back of my head are things that can't be in the back of your head. That part of me comes from a plantation, when you owned me. I was brought up to understand you, I read your literature, I knew Daffodils off by heart before I knew the name of a Jamaican flower. You don't lose that, it becomes stronger." (Stuart Hall)
"It is difficult to think of anyone else that has offered such a powerful insight into what has been happening to us over the past 70 years." (Martin Jacques)
Stuart Hall, who died last Monday, was one of the most generous, generative and enduringly significant intellectuals of the post-war era. A key figure in the development of the British New Left and of Cultural Studies, his writings on the intersection of race, politics, gender and identity have had a profound influence on scholars and artists all over the world. THE SOUND OF WHAT CANNOT BE – a presentation of John Akomfrah's widely-acclaimed film portrait of Hall, and a discussion of his multi-tentacled work by a cast of prominent New York intellectuals and activists – will be a celebration of his remarkable career.
PARTICIPANTS:
Brent Hayes Edwards is a Professor in the Department of English and Comparative Literature at Columbia University and author of The Practice of Diaspora (2003). His current book projects include a cultural history of the loft jazz scene in downtown Manhattan in the 1970s, and a translation of Michel Leiris's anthropological classic L'Afrique Fantôme.
Ruthie Wilson Gilmore is Professor of Earth & Environmental Sciences, and Director of the Center for Place, Culture and Politics at the Graduate Center, City University of New York. She has co-founded a number of grassroots social justice organizations, and has been recognized for public scholarship and commitment to anti-racist, anti-capitalist movement in North America, Europe and beyond.
Sean Jacobs is on the faculty of The New School and founded the blog Africa Is A Country. He is a native of Cape Town.
Anna McCarthy, Professor of Cinema Studies at NYU, is the author of Ambient Television (2001) and The Citizen Machine (2010). This spring, after eight years as co-editor at Social Text, she assumes editorship of The New York Review of Content.
Nick Mirzoeff worked with Stuart Hall at Marxism Today in the 1980s and has collaborated with filmmaker John Akomfrah. The author of many books – including The Right To Look (2011) and How To See The World (forthcoming from Penguin) – he is at present convenor of the Militant Research Collective.
Tavia Nyong'o is Associate Professor of Performance Studies at NYU, author of the award-winning The Amalgamation Waltz: Race, Performance, and the Ruses of Memory (2009), co-editor of Social Text journal, and a widely published writer on punk, disco, the African diaspora and performance art.
Andrew Ross is Professor of Social and Cultural Analysis at NYU. His most recent book is Creditocracy and the Case for Debt Refusal.
—
Queries: ss162@nyu.edu